Yes, there is still no knitting progress to report. Tonight I actually had a few free hours in the evening, but decided to go to Walgreens instead of knitting. Because, you know, no toothpaste and no TP. Okay, I still have a few rolls of TP, but I didn't have toothpaste for even one more brushing.
Work has been keeping me "busy." Sigh…
I hope these posts are making it clear that I'm not just a knitting machine ;).
Anyway…
I got a craftalog (more like crapalog) in the mail today, and for once I saw something that I really liked!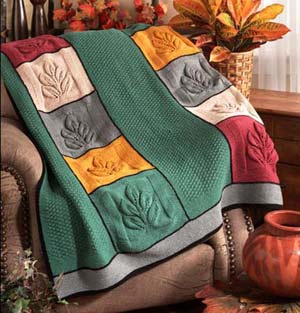 Is it just me, or is this not that bad? Both the colors and the design sit well with me, and, you know, this would make a cute throw for the couch!
I also want to tell you about something else I really like. There is a sock design out there that had me captivated from the first time I saw it – Craftoholic Steph's Mata Hari socks. I feel rude swiping the photo without asking her, so click on the link if you haven't seen them before. I actually first encountered these socks on Jo's site. Hers came out really lovely and prompted my sock crush, so check out the ones she made if you're so inclined.
Anyway, the issue is that these won't work for my grandma, nor for my sock pal, and really, I want these for me ;).
The real issue is, of course, yarn, since I prefer to have no wool on my feet. In other words, 0% wool, even those cotton/wool blend fingering weight yarns aren't my first choice. Diana and I are two peas in a pod when it comes to this issue, and we are always on the lookout for good non-animal yarns to knit socks.
However, I haven't looked around too much lately, and I bet there are new yarns out there that would make a good Mata Hari pair.
My question to you: any suggestions (other than elann equivalent, and Fortissima Cotton) for non-animal (absolutely no wool) fingering weight yarns which would work for socks? Cotton, linen, silk, elastic, and synthetic materials are all fine. Yarn must have at least a little bit of give and memory, of course, to make good socks.
Edited to add: and also other than Blue Moon Fiber Arts Sock Candy – thank you to those who told me about it – I'm now aware that it exists.
0
likes