Thanks, everyone, for your non-wool sock yarn suggestions! I'm still searching for the perfect thing, so if you ever come across a yarn that meets the following criteria, drop me a line! I'm still on the prowl ;).
fingering weight. I think BMFA Sock Candy isn't, but they haven't gotten back to me. This also eliminates Cascade Fixation.
has no animal fiber content whatsoever. This means not even 1% of wool, cashmere, angora, mohair, camel, alpaca, etc. Silk, cotton, linen, soy, bamboo are all okay.
comes in solid colors (again, not sure about BMFA).
has a great memory, often in the form of lycra, spandex, etc.
– – – – –
It certainly took a while. My instinct is always to make things more complicated. I tell myself, looks good, but wouldn't it look better if I added this or that? Oh, just one cable crossing above the ankle, just a few extra crosses at the top of the sock, just one more column of eyelets down the center, just… just… just… shut up!
A lot of self-control and saying "no" went into this: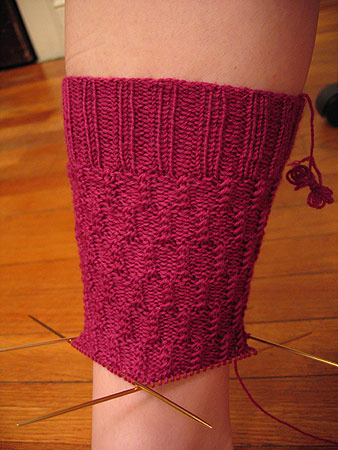 For now, I'm pleased. I really dig the texture, and in my opinion, it makes a great sock. The fabric is the opposite of "loosey goosey," if you know what I mean – it will stay up, and it feels substantive. It expands around the wider parts of the foot for comfortable snugness, but snaps into shape around my narrow ankle, for instance. It's not boring to knit, evident by the slight soreness in my left arm from manipulating all those twist stitches. At the same time, it's not a very complicated pattern, either. I even snuck in a little calf shaping 😉 (just a little – the ribbing is 4 stitches wider than the rest of the sock). And… (drum roll) I am 90-95% confident that my sock pal will like this simple design. Whew!!!
I guess it was important for me to come up with something original for my newest sock pal, or at least to give it my best effort. I know she doesn't expect it, but considering how well the last sock pal design turned out (the Jaywalkers, for those who didn't know), I thought it would be good karma all around.
Sigh of relief. Now I just have to knit them. I'm already thinking about what kind of heel and toe I want to use. No matter what I choose, these will be hours of entertainment, because twist stitches aren't the quickest thing to knit, at least for me. That's a good thing ;).
0
likes