After chatting with several knitters, it is apparent I have caused massive confusion with respect to my Azalea scarfette.
First, it wasn't immediately clear how I planned to wear something which is hexagonal in shape. Simple: I will fold the finished scarfette in half down the center (or maybe even a little off center), so it will be sort of like a semi-circle, and then I will wrap it around my neck. Just the way people wear circular and square shawls, except I won't knit it to true shawl size.
Second, people who have seen Azalea in real life were shocked by how small it is! Well… what'd you expect? I most certainly mentioned that I'm knitting laceweight yarn on size 1 needles! Here's Azalea today, with my hand and a quarter to give you a sense of scale: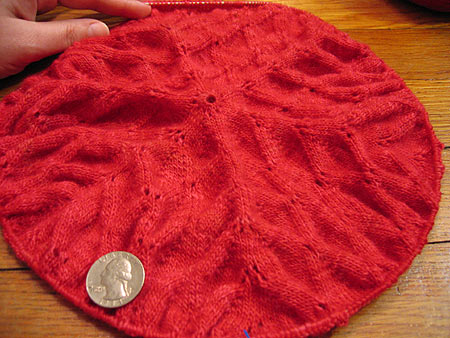 For the number-oriented among us: right now I have 540 stitches on the needle, which translates into a 12″ diameter. I do not expect a miraculous expansion upon blocking because the fabric is mainly stockinette, so I intend to knit Azalea until it is a full 30″ in diameter, a reasonable scarf size. Therefore, I will knit it until I'm old and gray and it's 2026 A.D ;). Or perhaps (just perhaps!) I'll get bored with it one day soon. What are the chances of that happening?!?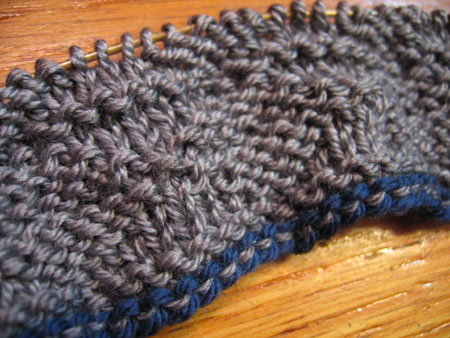 Hehe. The start of my highly-modified Mac & Me scarf.
The yarn is like freaking crack, I forgot how much I adored knitting with this merino/silk blend.
Of course I changed the K1, P1 ribbing specified in the pattern to keep things slightly more interesting and to match my own idea of what this scarf should look like, and how it should behave. First, I knew I didn't want to knit anything overly lacey because it wouldn't match the border. Plus, lace would require blocking under tension, which thins and flattens the fabric, and I kind of want something fluffy and textured. In fact, something solid would work well – I was not at all worried about the fabric coming out too stiff because it's silk, and I'd use slightly larger needles to maximize drape.
And so, the Fluted Rib pattern (BW #2, p. 5) fit the bill. It is textured, solid (with any tendencies towards stiffness negated by silk content and the use of US 4 needles), simple, and interesting all at the same time. It's also reversible – not a requirement, but a very nice bonus. Definite competition to Azalea for favorite on-the-go project ;).
Who am I kidding? My new favorite on-the-go project :).
0
likes