My friends, remember when I slyly mentioned a nearby knitter named Guido while answering JenLa's meme? Guido has given me the go-ahead to reveal his blog, "It's a Purl, Man," a site about a guy with yarn issues. Furthermore, I'm happy to tell you that Guido records a knitting podcast! My general feelings about podcasts aside (not my favorite medium, let's leave it at that), I found his very entertaining and refreshingly honest. I even figured out how to subscribe in iTunes ;).
And, Guido, we can chat about floral-print fabric with flies and fishes any time. That didn't come out quite right. I mean, we can chat about floral fabric any time. Damn it! What I'm really trying to say is that fly floral fabric is one of my favorite topics of discussion.
You'll have to listen to the podcast to understand ;).
Now, let's chat about socks. First, I've updated the list of non-wooly sock yarns, and will continue to do so as more information comes my way ;).
On Sunday I eagerly cast on using my newest yarn acquisition, a cotton/lycra blend from Greenwood Fiberworks. Since it's my first time using this yarn, I decided to play it conservative – first, I split the hank into two equal parts (by weight), and I'm knitting the socks from the toe-up. This way I'll get a really good idea of how far the skein can take me without the worry of turning the heel too early or too late.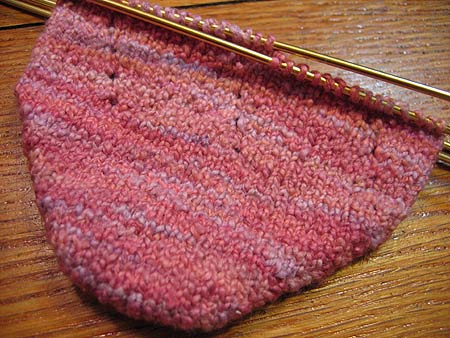 Check out my short row toe: (which I make following this tutorial):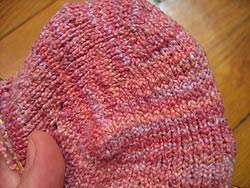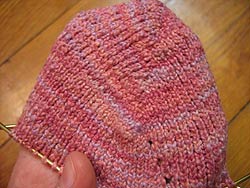 Not surprisingly, I'm quite pleased with the way the yarn is knitting up. It is very, very stretchy, even more stretchy than Cascade Fixation, which leads to a fabulous fabric as far as socks are concerned. And I'm really enjoying the knitting itself! Despite being mainly cotton, the yarn doesn't hurt my hands. Rather, it slides smoothly on my needles (Susan Bates dpns
) and doesn't at all object to being knit, as many cottons do.
The resulting fabric is pebbly and textured (this is on US 0 needles, which gets me 9 sts/inch), and of course the handpainted colorway is making its presence known, so I think this yarn is best for the simplest of patterns – stockinette, ribbing, but not much else.
In my case, the Mata Hari pattern is showing up "okay," but I have to knit a bit more to be sure. But first, I have to frog everything I've knit so far. Yes, it's true. The sock is coming out too big over 66 sts, and I need to go down to about 56.
In the grand scheme of my knitting life, frogging a little toe plus a few rows is nothing – I've survived frogging entire sweater pieces without much damage ;).
0
likes