alternatively, Scarf update, part deux, we discuss the same scarves as before
But first, thank you so much for your generous compliments on Meg Swansen's sock! Needless to say, this isn't the end of stranded knitting for me ;).
– – – – –
Azalea. What a mistake! What was I thinking? Well, I know what I was thinking. My friends, let us go back in time to Saturday, February 11th, 2006, and let us learn from my stupidity.
I was itching to start a project that day. I had recently finished my grandma's shawl, quickly followed by the black socks for my dad (truly an emergency situation), and I was entirely project-less. Although the Meg Swansen sock was already planned, the yarn from Purly hadn't yet arrived. The big blizzard was coming our way that weekend, so I needed to start something using yarn from my stash. And I wanted to knit lace, BAD.
At that time, the only lace book I had on hand was Knitter's Magazine Shawls and Scarves
, and nothing from it really spoke to me. Well, many things spoke to me, but considering this yarn (Malabrigo merino laceweight) is unfroggable, none of the simpler projects really appealed.
So, the blizzard was coming, and I took a total shot in the dark and stopped by my library, which had only one lace book: Marianne Kinzel's First Book of Modern Lace Knitting
. I was thrilled to discover Azalea inside – simple (it's true – I haven't had to frog any considerable number of stitches) and pretty.
But it is just so damn boring! The first few repeats were mindless, true, but now with 540 stitches on the needle, I don't even want to look at it. One round takes me such a long time, and most of the stitches are just knit stitches.
And I'm not stupid! I can do simple math! If 540 stitches gets me to a 12″ diameter, and a reasonable scarfette needs to be at least 30″ in diameter, I will need to work that sucker until I have 1350 stitches! One thousand, three hundred and effing-fifty!
Azalea, you ARE the weakest link, good-bye!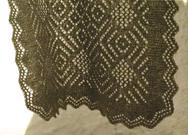 I'm still dying to knit some lace, but Azalea isn't it. With my Ruffle Scarf serving as the current "on the go" project, I can really tackle something a bit more challenging, plus I finally picked up a few more lace books, so I have more options. I've been toying with the idea of the Faux Russian Stole from A Gathering of Lace
. I'm just not sure if it's the type of project I won't ever have to frog… this yarn is incredibly fragile.
Speaking of the Ruffle Scarf, there has been some progress!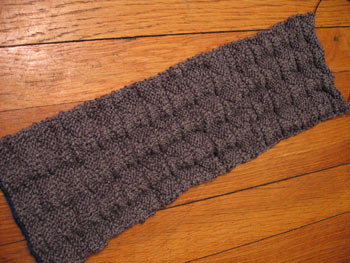 I am just loving this Fluted Rib pattern (BW #2
, p. 5). It reminds me of corrugated sheet roofs!
And then do you see how several inches into the scarf I switched the ribs? That was totally on purpose.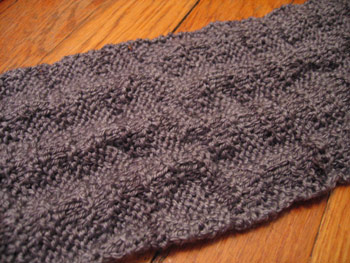 Yeah, right! I guess this "mindless" pattern isn't so mindless after all. I totally screwed up and didn't notice until I had worked many inches past the mistake. But, in totally uncharacteristic fashion, I decided to leave it! Mainly because this rectangle I'm currently working is just a placeholder for all the ruffles, ruffles, ruffles! Also because I figure I can incorporate it into the pattern – switch the ribs back and forth throughout, or switch one more time at the other end of the scarf for symmetry. Eh, we'll see how it goes.
Look how carefree I am about this! I don't know what's wrong with me ;).
0
likes