I thought I'd post a quick little entry, despite having absolutely zero knitting progress to show you. This week has been insane at work, and the stress is making me feel not so hot. The worst part is that even when I have a few hours in the evening to knit, my mind is entirely preoccupied with work-related stuffs. Neurons. Synapses. Normalized intensities. Pharmacological treatments. Z-stacks. Oy!
The "knitting" this week has been primarily focused on my Sockapaloooza sock pal's socks. The word "knitting" is in quotes because it's more like thinking about knitting and swatching, immediately followed by frogging.
The problem is that I'm over-thinking. Well, let me preface that: I think my pal is the type of person who would like a more simple design. Some simple eyelets, a few cables, ribbing at the top, cleverly put together, and she would be pleased as Punch. Me, on the other hand… I don't think like that.
I start out with some simple 4-stitch motif. To make the stitch count work out, I increase it to 6 stitches. While I go get a diet Coke, I mentally expand the 6 stitches to 11 to make a more fancy design. When I sit down to graph it, it morphs into a 16-stitch monstrosity. I then insist on mirroring the design for the second sock, and the next thing you know, I'm dealing with a 16 19 24-stitch repeat that's different for each sock! I take a step back and say, why? Why are you doing this? Your pal will hate this.
I need help. Can you please tell me where my brain's off switch is located? I need it to be quiet for a moment, while I design something simple.
Alternatively, I can just knit from a pattern, because clearly the "thinking thing" isn't working out right now. I might do that, there are too many lovely ones out there to be ignored.
Anyway, that's my state of being as we start the weekend. I hope I haven't depressed anyone too much. If I have, here's a photo of the yarn I'm using for my pal's socks, I know the color cheers me up every time I see it (gorgeous!)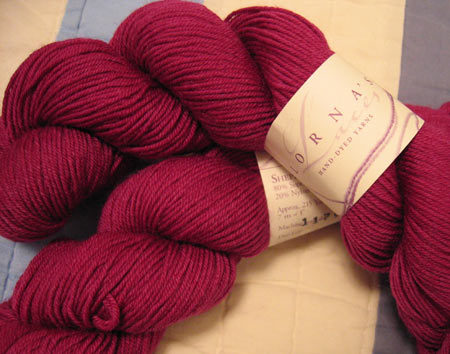 Lorna's Laces Shepherd Sock in berry (23 ns).
0
likes