The search for non-wooly sock yarn continues because the Mata Hari socks must be mine :). I have such a crush on them!
Thank you, everyone, for continuing to suggest yarns, both by leaving comments and sending e-mails. I've started to compile a list of non-wooly yarns which can/might work for socks, based on personal knowledge and your suggestions. I hope that it will be helpful to other knitters, and also it will allow you to see which yarns I already know about. The list, which I intend to update as I learn about new yarns, is here.
In my quest for Mata Hari yarn, I came across the Greenwood Fiberworks site on etsy. I was intrigued by the hand-painted cotton/lycra sock yarns offered, and decided to place an order for the Penelope colorway as soon as I learned that the yarn is fingering weight, and 96% cotton, 4% lycra.
My yarn arrived on Saturday, and I was immediately impressed by everything.
First, everything was packaged with the utmost care – the yarn was carefully wrapped in tissue paper, the free sock pattern was enclosed in a plastic sleeve, and Carolyn included a business card, and a hand-written letter. That's right, a letter! Not just a little scribble on the invoice, "thanks for your purchase, I hope to do business again," but a letter addressed to me, expressing her gratitude for my purchase, asking for suggestions, offering a discount on future purchases (he!).
Second, I'm very impressed with the yarn.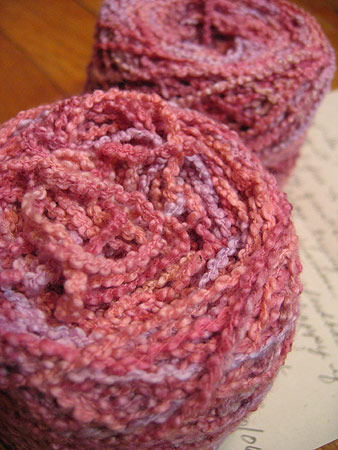 It's thin, I like the colors, and I think it will make great socks (I'll report more once I actually knit with it). The yarn is highly textured, so I don't think it will work for anything more complicated than stockinette, ribbing, and possibly Mata Haris. Plus it's kind of self-striping*. That's a bummer for what I have in mind at the moment. BUT if I need to knit a simple sock, yeah, this yarn is highly promising.
And two more heart-warming tidbits – the yarn smells really good… fruity? maybe like cherries or something. Also, Carolyn has enviously beautiful handwriting.
I'm such a sucker! Spritz anything with some body spray and have a third-grade teacher write me a letter, and I'll just hand over my wallet. Okay, not really, but the little things do make this generally depressing experience of looking for non-wooly sock yarns better :).
*I had e-mailed Carolyn with some suggestions earlier today, and she just wrote back – she seems receptive to dyeing some of this yarn in solid colorways! Yay!
0
likes