I can hardly express how much I knit this weekend – I think I knit the equivalent of about 2 pairs of socks! Sadly, I have nothing to show for all that effort: every stitch that has been knit, has now been ripped.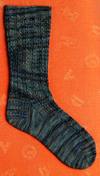 Basically, I'm still having a very hard time designing something for my pal. She and I knit very different styles of socks. Sigh. I'm trying out one more idea, and if when it doesn't work out, I will knit Conwy from Knitting on the Road
. That pattern is just beautiful, and I think my pal would love a pair of socks like that.
So, anyway, to make up for another post which has absolutely no knitting progress, I thought I'd tell you a funny story.
Remember when I blocked my grandma's shawl? And then I wrote a little tiny post that sort of went unnoticed where I mentioned that I had to block it again? Did you ever wonder what happened?
Well, let me tell you. It wasn't funny then, but it's pretty funny now.
When I originally blocked the shawl, I took the outermost stitches along the edge, put them under a good amount of tension, then pinned the whole thing in place. You can see the way I pinned the stitches here. After the shawl was dry, and I had taken it off the "blocking board" (my couch), those edge stitches which were stretched and pinned ended up looking terribly unattractive – sort of like little awkward triangles, totally ruining the smoothness of the scalloped edge.
I thought, no problem. I will just rewet those specific stitches which are a bit misshapen, tug the fabric a bit to smooth everything out, and then everything will be fixed.
And how did I decide to execute this brilliant plan? With a spray bottle. Oh my God, I'm so stupid. So I spray the edge of the shawl, and lo and behold, the misshapen stitches are smoothing out! Yay! However, now the entire edge is wet, and it's all sort of "smoothing out" and going back to its unblocked state. Shit, shit! I started pinning the shawl back on the blocking board, the middle all dry, but the edges totally wet, but it was hopeless, and the moisture was spreading like wildfire into the middle, un-blocking the whole thing.
I ended up having to reblock the entire shawl, except the second time around, I placed the pins inside the eyelets, which worked out much, much better.
Lesson learned – don't try to fix the outermost stitch of a blocked shawl by using a spray bottle! Let's hope I never have to do this again, but if I do, another idea is to pin the dry shawl back into "blocking position," with the pins inside the eyelets, and then to rewet the edge with the spray bottle or whatever else.
0
likes