Dearest Sewing Machine,
First, I think you should stop your mocking laugher. I cannot have a conversation with you, woman-to-woman, if you are laughing at me. Perhaps I can live with a smirk here and there, but this outright disdain does neither of us any good.
All set?
I realize that many of my sewing woes have absolutely nothing to do with you. Unlike knitting, which I was able to learn from a book, and which clicked in my brain immediately, sewing has been more of an uphill battle. That's an understatement. I'm amazed that with a mom who's a very capable seamstress, a great uncle who, to this day, is a professional men's suit-maker, and a grandfather who was a furrier, I'm so clueless when it comes to sewing.
But I think you can really help me – cooperate instead of throwing a hissy fit every time I look at you the wrong way. Then at least I won't have to deal with your tantrums, wildly leafing through your manual searching for the always-elusive answer, and instead I could concentrate on filling in the gaps in my sewing knowledge. Like, you know, the dangers of iron-on interfacing and stuff like that.
I know what you're going to say. You're right – there is absolutely no reason for you to play nice with me. For starters, I operate you while hunched over at the coffee table, the only surface large enough in my apartment. It's an insult to your fine machinery, and you would be so much happier on a real table. But, as you can see, I live in the tiniest of apartments, and a bigger table just isn't in the cards for us. Second, I know you're jealous of the knitting. Not only does it occupy the majority of my hobby time, I realize you're offended at the frequency I use you to finish up some knitting project – lining a knitted blanket and sewing knitting needle cases come to mind.
Considering that I want to attempt to sew a skirt one of these days, I decided it was time to butter you up. To make YOU feel special, to show YOU how much you're appreciated. Then perhaps, just perhaps, you'll cooperate the next time I plop you on the coffee table. Deal? 😉
And so, I have decided to sew you a custom cover.
Oh, stop it! It's not that big of a deal! Yes, it IS better than a romantic dinner. You're making me blush ;).
It's no secret to either of us that the cover you have now is truly unsightly, to say the least. It's also slowly but surely tearing (cheap plastic and all), and has that giant hole in the top which gets your innards oh-so dusty.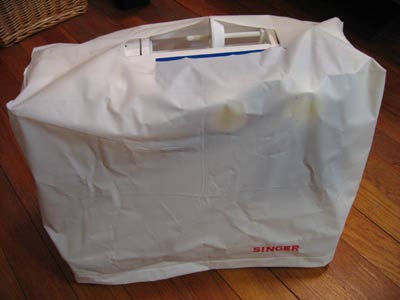 Well, I picked up some lovely cotton at Fabric Place a while ago, stiffened it with iron-on interfacing (only for you, my darling), carefully measured you this way and that, and made you a truly custom outfit.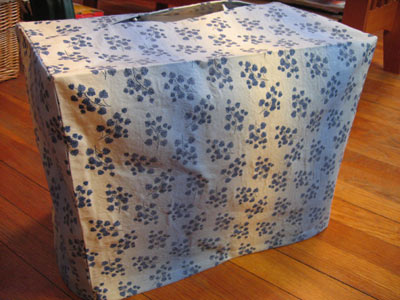 What do you think? Note how I carefully placed the opening to pull through your handle at just the right location, and how it completely closes shut when your handle is down. No more dust on the inside!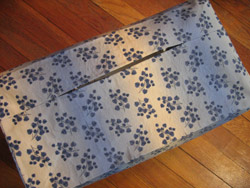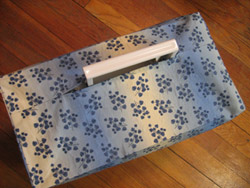 I hope this shows you exactly how I feel about you.
Will you be my friend?
Smooches,
Grumperina
0
likes