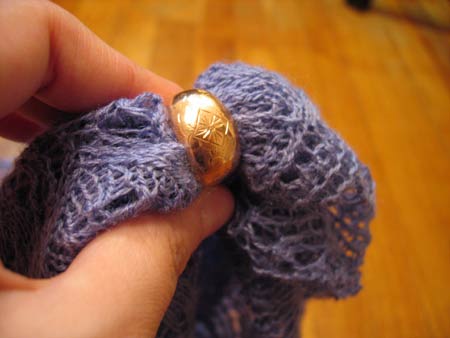 My grandma gave me this domed gold ring, a family heirloom, when I turned 18. She put it on my finger, and told me to wear it to college parties, where it would surely capture the attention of gentleman suitors. Oh, grandma, how I love you!
I have never worn the ring – it is massive, exquisite, priceless, and completely clashes with my un-manicured, pudgy, short fingers and jeans-clad body. My grandma asks me about it, wonders if I've been wearing it, and I tell her that I haven't, but that there's no way I'm giving it back. Every gram of that ring, every curve, every stroke of the design is her gift to me, her love for me.
The shawl I knit for grandma is hardly a Wedding Ring Shawl – it's not the right size or shape or yarn or color, and it's not that fine. But there is something special about passing a delicate fabric through a metal ring, the shawl I knit for grandma through the ring she gave to me, one form of love through another.
Finishing this shawl was not anti-climactic. I am so happy and so pleased, and these feelings definitely alleviate (although not completely erase) all the frustrations I went through while dealing with the shoddy pattern. I think my grandma will really love this shawl, and I'm left itching to knit some more lace!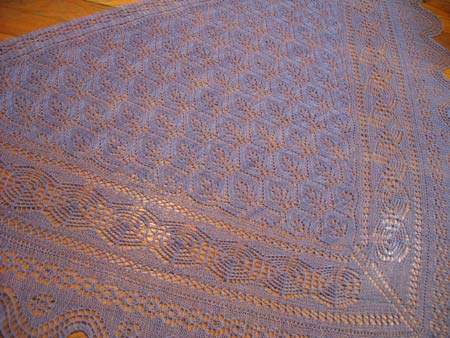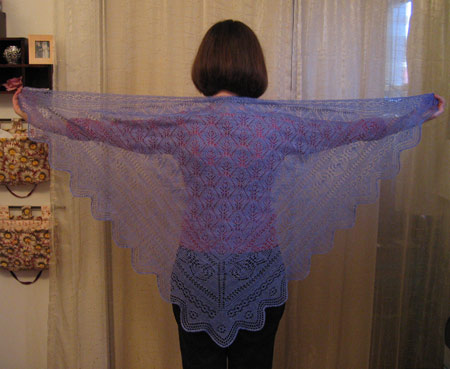 Pattern: Misty Morning Shawl, distributed by The Alpaca Yarn Company (formerly America's Alpaca), designed by Sharon Winsauer of Aurora Alpacas. Corrections for this pattern can be found here.
Needles: 2.5 mm (US 1) and 3.0 mm (US 2) Metal Dowels. For the last two borders of the shawl, I got smarter and used Inox – the gray Teflon-coated aluminum ones. I don't know whether the package was marked US 2 (supposedly 2.75 mm) or US 3 (supposedly 3.25 mm), but they are 3.0 mm in diameter according to my calipers.
Yarn: Lorna's Laces Helen's Lace, 50% silk/50% wool, color periwinkle (49 ns). I used about two-thirds of a skein (850 yards), and have enough yarn left over for a lacey scarf or something. Simply put, this stuff rocks! Would definitely use again.
Finished size: 54″ across the top, 34.5″ deep.
Modifications: this was a very challenging project because I completely changed the shape of the shawl, and everything that entails:

Guess what? Many (bandwidth-sucking) photos in the extended entry – check it out by clicking below!

Leaves in the center panel: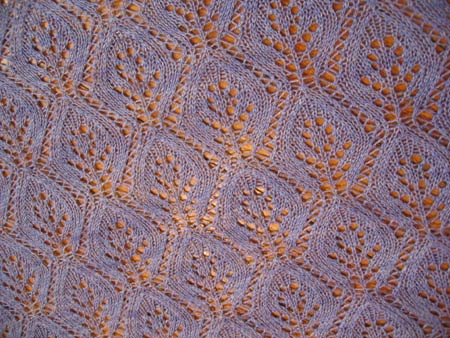 The back point: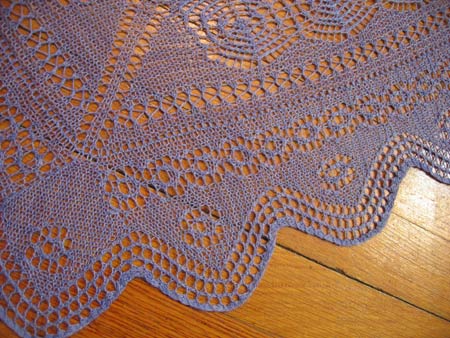 One of the corners: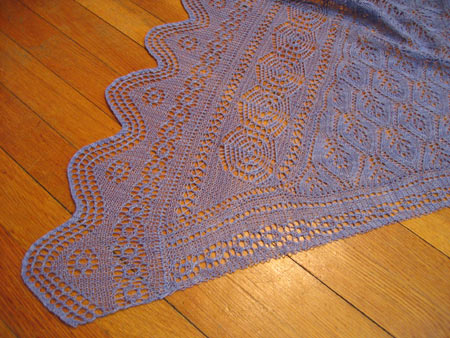 Many of the elements together: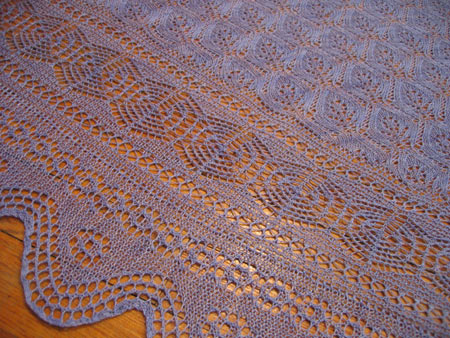 Handpainted goodness: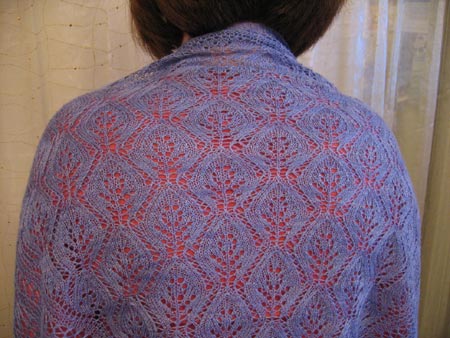 Silky sheen: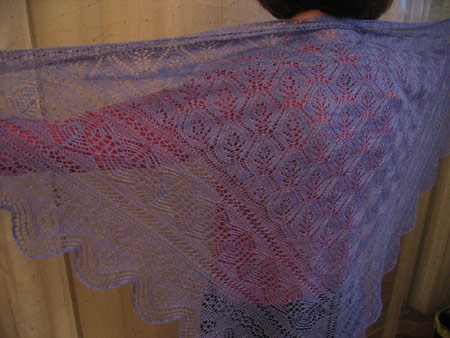 From the front: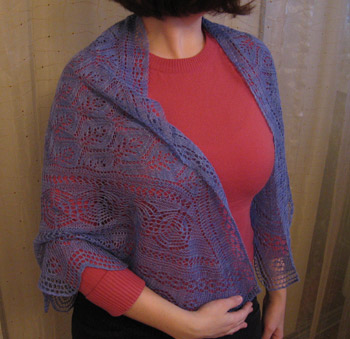 0
likes