Indeed, many things capitalize on the brilliant combination of dark blue/violet and yellow/orange.








And now, my newest project joins their ranks ;).
As you all saw, it involves stranded knitting and the techniques often used in Fair Isle designs. The pattern itself is not a Fair Isle motif, however, so I'll try to be careful and not call it that. Rather, simply, "stranded knitting." If I slip, it's just that – a slip of the keyboard.
This is my first project which requires stranding (group awww!), and after working on it for three nights now, this is what I have to say – how can so many people produce so many beautiful, even (!!!) works of art while I feel like my hands are growing out of my ass any time I have to balance more than one strand of yarn?
As with all firsts, I'm learning. Big time. The learning itself is very satisfying because I'm such a technique geek, but the fact that all this learning has not been terribly fruitful yet is very frustrating.
So far I've tried two different ways to coerce my hands into producing something beautiful: (a little background: I am a typical Continental-style knitter. I drape the working yarn over the index finger of my left hand, and pick it with the working needle to make a knit stitch. I never learned to knit English style, so I don't know how to do it. I don't think it matters, but I'm a right-handed person when it comes to daily activities)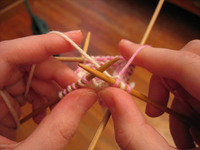 One strand in left hand, one strand in right. I think this is the way most knitters strand, and it's the way illustrated in books by Elizabeth Zimmermann, Montse Stanley, the One who cannot be named, and numerous others. Videos here and here.
I understand and fully appreciate this method's popularity. It is mindless, fiddle-free, intuitive, and just beautiful. It's like realizing that purls are knits when looked from the other side – efficient simplicity.

I would stop right here if I could throw like a decent knitter (i.e., knit English style), but I can't! I once said that me trying to knit English style is, "the most stupid-looking thing in the world. … I might as well be a fish trying to peel a banana. Or be deep-sea fishing with a banana." Yup.
I end up letting go of the needle completely for every stitch, while I know it's possible to just flick the index finger. I've seen others do it, I know it can be done! I also find it very difficult to keep proper tension of whatever yarn I'm holding in my right hand. One word comes to mind: practice.
But why practice if there are methods out there that do not entail the use of my undeveloped throwing skills? All these methods require that I hold both strands in my left hand, and knit Continentally as I typically do, selecting the appropriate strand of yarn for every stitch. Eureka!
Eureka?
The fiddle factor for holding both strands in the left hand is higher, because working around the unused strand of yarn while reaching for the desired one is a bit tricky. Furthermore, the tension issue bites me in the ass once again! You see, I can control the tension of one strand, or of two strands held together uniformly throughout, but simultaneously manipulating the tensions of two different strands, which are used at different rates, but which are wrapped around my hand in identical paths is very tricky. If I use one for four stitches, the other becomes four-stitches' worth looser and needs to be tugged before being incorporated into the next stitch.
Sigh.
I haven't given up, though. In fact, I have attempted four variations on this theme for completeness' sake.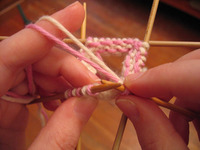 Both strands over my left index finger. Fiddly and not fun because the two eventually merge as one and need to be separated in order for my needle to be able to grab one or the other.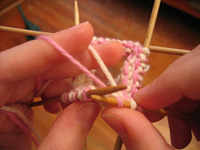 One strand over index finger, one strand over middle finger – doesn't work for me. Too many fingers tied up in holding yarn, not enough in holding the knitted fabric.



Knitting thimbles, aka, Strickfingerhuts. I have two varieties (purchased here), and I don't like either. First, they are gigantic and very loose on my index finger. Second, it feels so very odd to not have the yarn running over my index finger, but rather have it suspended in mid-air half a centimeter above. No me likey.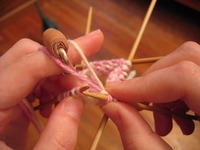 And last, a homemade knitting thimble, the current favorite in this category. I wrapped two Band-Aids around an old ring of mine so that it would stay precisely at the right place on my index finger, and use this contraption to physically separate the two strand of yarn. This works well for me. Only the tension wonkiness I refer to above – the need to yank on the unused yarn every so often because the two are tensed at the same point.

So, it's down to two: following tradition, English-style throwing one strand with my right hand, or using the homemade knitting thimble. Practice is required for both. I wish I already knew which will prove to be more fruitful at the end, because then I could concentrate my efforts. Until then, I seem to be changing my mind every other round, or any time I stop and examine the wonkiness in front of me.
As for this wonkiness – I will show it to you in time, but not right now (none of your guesses were correct, by the way). First, I've only knit a few rounds and it doesn't look like much. Second, I regretfully have to frog all that I've knit so far because it's too small.
Last, I'm about to embark on a pattern modification like no other – swapping stranding patterns left and right in order to increase the size a good 20%. And I can't even knit this stuff yet. Deep breath.
0
likes