My friends, feast your eyes: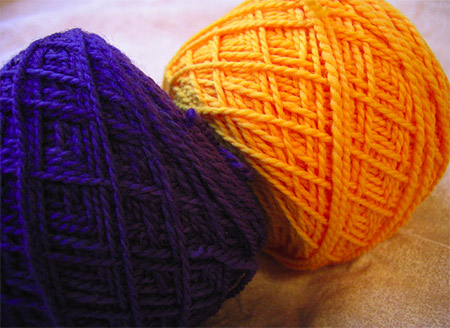 Say it with me, "Oooooooh!!! Aaaaaaaaah!!!"
The absolute fabulousness you see is another order from the Secret Dyer. You know who I'm talking about, right? She is the artist who precisely matched my mom's request for bluish-gray yarn for her shawl. She's also the one who supplied Eunny with silk for her Frost Flowers Shawl – just the right balance of the luminescence of a red wine and the depth of a ripe cherry. More Secret Dyer goodness will be available to all of us shortly, but until her shop is open, I've promised to keep SD's identity a secret.
When I approached SD about getting some yarn for a two-color project, she was incredibly helpful, offering many possible color combinations, and explaining the properties of each one. We went back and forth a little bit, and with her help soon I settled on a violet-tinted dark blue combined with a yellow-tinted orange. Delicious, but even more importantly, they look amazing as a combination. You see, anyone can dye yarn if proper materials are available, but it takes training and good color intuition to know which colors will balance each other well when placed next to one other. Do I even have to tell you that the Secret Dyer has the necessary background and color intuition?!?
The yarn itself is fingering weight superwash merino, and "has an excellent hand," as they say. That's the other thing – the base yarn used for dyeing matters. Different yarns are… well, different – some are softer, or wear better over time, or dye more evenly, or hardly need any washing/rinsing before the dyeing process. SD has complete knowledge of what's available out there (boggles my mind how much she knows!), and she has selected one of the best to serve as her superwash fingering weight base. If it sounds like I'm blabbing, let me put it in simpler terms – it feels goooood… and then I take it and squeeze it between my fingers, and it feels goooood… and then I run it between my fingers and it feels goooood… and then when I knit it up, it feels goooood…
Knit it up? Wait a minute, there's been knitting? What am I up to now?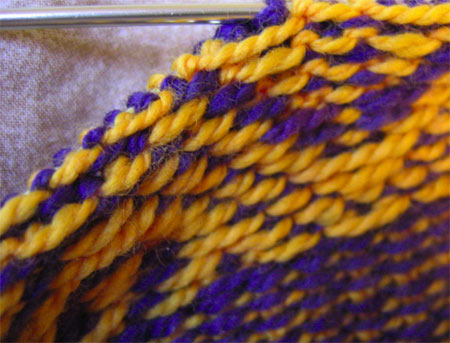 Trouble. Lots and lots of trouble ;).
0
likes