Question: And how many pins does it take to block a huge-ass shawl with a fancy scalloped-edge for a second time?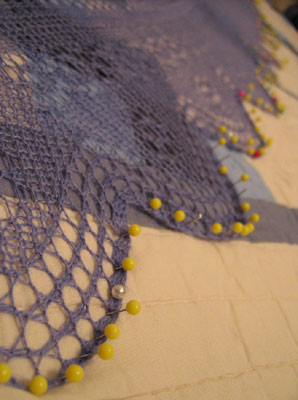 Answer: EVEN MORE.
Don't ask – I'd rather not talk about it because I did something really stupid and needed to reblock the whole thing again. Hopefully this is the last time ;).
Anyway…
Did you know I joined Sockapaloooza? I've been slow putting up that button, but I've been looking forward to it for a while!

Before I even received my sock pal match, I already toyed with the idea of knitting a custom pair of socks for him or her. I thought that perhaps I would come up with another way to capitalize on the funk (hehe) that is self-striping yarn (rhombuses?). Or maybe I would use Cascade Fixation – not too many patterns out there using it, and warmer weather is on the horizon, plus I just love it so much!
However, these socks are for my pal, not for me, and no matter what my personal desires might be, ultimately I want to make him or her happy. As it happens, once I received the Sockapaloooza info, I had to shift gears and start thinking in a different direction.
I still think I will come up with something custom, but it will be very simple compared to what I was thinking before. If all else fails, I think my pal would really love a pair like this, and I'll just hope that they will be easier to knit the second time around.
The yarn I've chosen for my pal is Lorna's Laces Shepherd Sock in berry (23ns).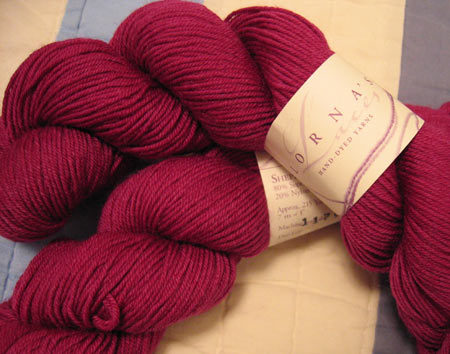 At the moment, my US 0 dpns (both sets – don't ask) are tied up in these socks which have moved along substantially since the last time you saw them, despite not getting any blog time ;). I need to finish them up, or buy a third set of 0s :).
0
likes