Did I ever tell you how incredibly sensitive I am to mosquito bites? The way people's skin blows up when a bee stings them, that's how my skin reacts to a mosquito bite. One innocent little prick, and the thing becomes its own municipality – the size of a softball and pulsating, throbbing, emitting heat, demanding attention… alive! Needless to say, mosquitoes like biting me best of everyone I know, heh.
So, this thing about being "bitten by the lace bug" – yeah, and it's definitely a mosquito ;).
On Friday I could hardly concentrate at work, I kept thinking about what lace thing I want to knit next! Mom and grandma are taken care of for a while, so I kept coming back to me, me, me. What lace thing would I like to knit for myself? A rectangular scarf or stole? A triangular shawl? Maybe a big square?
I could daydream all afternoon long, but the reality of the situation was that I had no patterns to dream about! I mean, I have patterns – stitch dictionaries and the entire Internets are enough to keep any knitter occupied for years – just nothing that was compelling enough to cast-on then and there. On a whim I stopped by my local library, and picked up the only lace knitting book they had on the shelf – First Book of Modern Lace Knitting by Marianne Kinzel.
Wait a minute… isn't that the book with all the knitted doilies? Why yes, yes, it is, but would you set your lunch tray on one of these?
Hell no!
And so an idea was born – why don't I knit a little scarf-ette using one of the patterns? I only need to select a pattern with regular repeats so I can size it at will, such as the leftmost one above called Azalea.
Ah, Azalea, such a simple 6 row repeat, but so mesmerizing. I had to have it.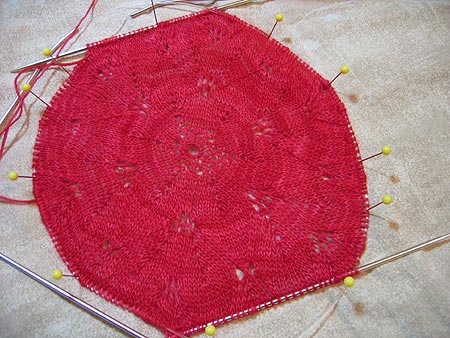 Understated and lovely, don't you think?
The yarn came from my stash-ette. It is Malabrigo laceweight merino in the colorway vermillion, incredibly reminiscent of poppies, if you ask me. I'm very deliberately not linking to the handpaintedyarn.com website because you cannot buy the merino laceweight there: the stuff online is pure wool, the stuff in my stash is LYS-purchased merino.
I'm very happy with the pattern/yarn pairing – this single-ply yarn is ridiculously soft, perfect for next-to-the-neck wear, but it does not tolerate any frogging or tinking as a result. Conveniently, the pattern is incredibly simple, nearly mindless, so I hope I don't have to unknit at all ;).
So simple, in fact, that as soon as the scarf is big enough to fit on one circular, this will likely become my "on the go" project – post office, subway, bus, S 'n B, here we come! Right now, however, it's just a baby, supported by two circs and two dpns (size US 1, in case you're curious). Predictably, the dangling, clinking circs are making me very unhappy and I'm knitting as fast as I can to get past this awkward stage. Then I want to keep knitting until I have a scarf that's no more than 30 or so inches in diameter so that it won't be bulky under my jacket. And then I'll need to bind off, a topic of discussion in and of itself ('cause you know I am not going to do that funky-ass crochet mambo-jumbo loopy bind-off thing like in the photograph).
0
likes