Do you remember when you weren't a knitter? Those of us who learned to knit as adults certainly do. What did you think of Fair Isle and other colorwork sweaters back then? Personally, I dismissed them without any consideration. Complete and total poo-poo reaction. Poo, I tell you!
And now? A full 180-degree change – drool… pass a tissue, it'd dripping on the carpet. In particular, there was (still is?) a recent wave of awe-inspiring colorwork that prodded me to revisit the idea. I think Jess's socks pushed me over the edge.
But you know me – I have to make things complicated (understatement of the year, just ask my adviser). It wasn't until I read this entry from Ms. Big Geek that I knew what my first Fair Isle-ish project would be.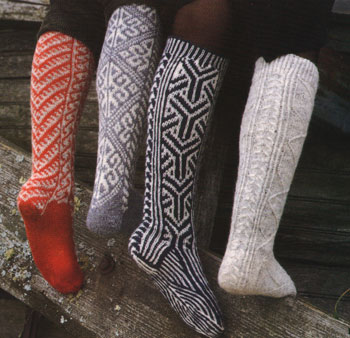 Stockings with Form-Fitted Arch from Meg Swansen's Knitting
. My choice is second from the left, creatively called Blue and Cream Stocking.
The appeal – very interesting designs on all three colorwork samples, plus the promise of socks which are "amazingly sensuous as you slip them on and feel the arch shaping snug up into the bottom of your foot." Personally, I have very high arches, so I immediately raised my eyebrows and thought, "Oh, really? That'd be cool." 😉
Plus… do I even have to say it?… Beth's blog was the first time I had seen these socks, and the idea of knitting something funky and new is very appealing to me.
Of course there's a price to pay. Hear ye, hear ye! There are no patterns (in the traditional sense) for the two-color socks in this book. Don't tell me I didn't warn you ;).
Meg Swansen tells us that she only had prototypes of these socks to go by, and no notes from the designer herself, Elizabeth Z. As a result, there is a pattern for the cream-colored Aran sock only (the one on the far right). As for the three colorful socks, Meg writes a little prose, provides the charts, but there is no pattern to speak of. Gauge? None given. Finished size? Not here. Needle size? Nope. Yarn weight and yardage requirements? Only a rough description. Instructions for working the ribbing? Not a chance. And the all important form-fitted arch? I'm sorry, not here – the knitter is expected to take the Aran sock instructions (which happens to be worked over 10 fewer stitches) and figure it out herself.
I'm actually perfectly fine with this way of writing patterns, and I often wish more were written as just "guidelines." For example, I wonder, with so many references out there telling us how to make short-row heels, is it really necessary to spell it out on every pattern that uses them? Half of the time we substitute our favorite heels and toes anyway, right? In this case, however, the sole is worked very differently than anything I've seen, and I do wish there were explicit instructions for all the socks. Similarly, the finished size and/or gauge proved to be an essential tidbit.
And to top it all off, I still don't know how to knit with two colors!
Although… I'm told it's not that bad: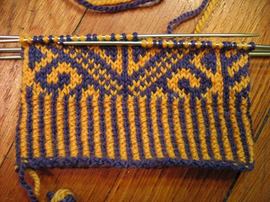 (click for big)
Fine. I agree. This is not bad for my first try, and I imagine some of the wonkiness will go away with a good blocking. I'm being very introspective and critical at this stage of learning, though, because I don't want to pick up some bad knitting habit only to later learn its disastrous consequences and not be able to reform myself.
But it was a good start. Was because I had to frog everything you see. Two issues – first, for some reason (oh yes, lack of pattern) I decided to work a corrugated ribbing, purling with orange and knitting with blue, and this is very inelastic as I quickly learned. Second, the sock wouldn't fit over my calf.
And that's when things got really complicated.
Because it was more than just a few stitches that needed to be added.
Actually, somewhere around 20. Twenty stitches! Because I've got some shapely calves, let me tell ya, 15″ in circumference at their widest. And, oh, let's not forget my miniscule ankles – 7″ in circumference at their narrowest. So, I need to add about 20 stitches, but then decrease even more than the pattern specifies. Oy.
I knew I was challenging myself by attempting to knit something stranded. I knew I was challenging myself when I decided to forge ahead with this very skimpy "pattern" (gauge, Meg, I need gauge!). But I never imagined that before I even mastered two-color knitting I'd be modifying this pattern in such a drastic way. The price we pay for esotericism ;).
I looked at the given chart this way and that, and decided that the six-stitch side motif (seen in the lower right photo above) needed to be completely swapped for another, much larger one. I picked the replacement motif from the Ram's Horn Cardigan pattern (same book), because it has curlicues which are identical to the ones used in the sock. Then I embellished it a bit to make it the right size. I fired up Excel, made a new chart, ditched corrugated ribbing, and got to knittin'. Two-handed style, of course, because I just couldn't dismiss its efficient simplicity. At least for now. Plus this comment from Gigi hit home, "i'm suspicious of any activity that requires a – (hmmm, how shall i say this?) a device. i say tough it out and learn to throw. think of how proud and smug you will feel once you've mastered it. and i ask you, what's better than smug self-satisfaction? nothing that's what."
Yeah. Hehe. I'm on it ;).
(click for big) (click here for a sense of scale – shapely calves modeling miniscule progress ;))
And so there's no confusion: no, I didn't get a foot transplant, I still cannot wear wool on my feets and will therefore not be able to actually wear this sock. But it's an awesome puzzle so far!
0
likes