Your comments to my last post… hmmm. They were not at all what I was expecting, in a really, really, really good way. Will you roll your eyes if I tell you that some of them had me choked up? If you will, then do it now. Okay, all done, on to other things ;).
You are completely right, there is no easy way to reconcile the following two statements:
To me, knitting something that promises zero challenge and discovery is… not going to happen.
and
I will try to only knit things that have already been knit by others from now on.
I'm full of shit on that last statement. But I will tell you one thing – I should definitely be smarter about my choice of esoteric patterns. Fine, it doesn't have to be even marginally popular, but wouldn't it be wise for me to at least limit myself to patterns put out by reputable companies and designers? By that virtue, for example, Curlicue would be in, but the Misty Morning Shawl would be out. I think that's a pretty fair compromise. Of course there's that little challenge demon who lives inside of me; only she knows what she will demand for my next project.
Anyway… let us all take a look at this: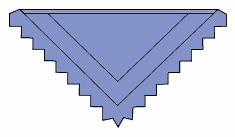 There were times when I didn't think I would ever be able to put up that diagram. But there it is. I. AM. DONE.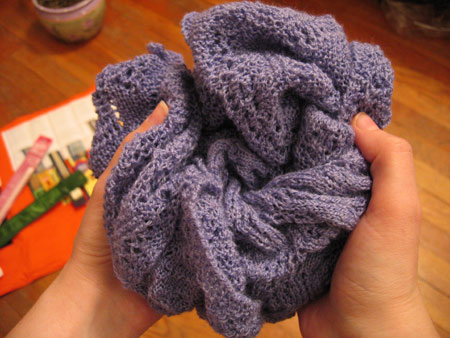 The unblocked shawl is 35″ across the top, and 23″ from top edge to the point. Much growth is expected post-blocking. I am purposefully omitting a clearer picture – why gawk at an ugly duckling knowing perfectly well that tomorrow she will become a gorgeous swan?
It will take me a few days to get photos of this elusive swan, though, because I think I should go outside to accurately capture the beauty… I've been told that the shawl looks much more purple on the computer than in real life. I can fix that, but I need to wait until the proper mix of weekend and weather.
Now, about that little contest of mine. Here's when you guys thought I would finish: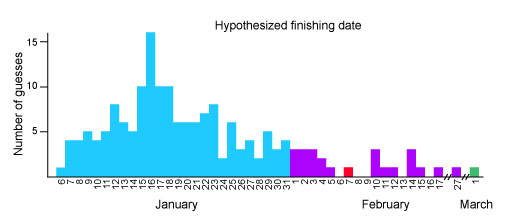 I'm such a dork for actually taking the time to make this histogram – hehe, snort!
Those of you who thought I'd be done in a week or less – you are very sketchy knitters indeed. I wonder if you knit 300 stitches a minute, and think I do, too? I purse my lips and give you that suspicious look… I'm wondering how you knit so quickly, and where I can learn.
The majority of the guesses centered on January 16th. I have to be careful with these contests in the future, because if I actually finished on the 16th, I would have to come up with winning prizes for 16 people!
Fortunately, some reasonable knitters chimed in and picked dates in late January and February. At the time I announced the contest (before I myself knew how mistake-filled this pattern would end up being), I thought I would finish between January 28th and February 15th. I actually finished
Tuesday, February 7th, 2006, 10:07 p.m.
which makes the winner of this contest:
Congratulations, Stephanie!
The regulars are rolling their eyes, again, because they are now thinking the contest was fixed. You see, Stephanie and I have been reading each other's blogs ever since we started blogging, and we have been in silico friends for a very long time. I assure you, the contest was not fixed, and present this as evidence: just like me, Stephanie is a beginner lace knitter, and I suspect this allowed her to make a very reasonable (and, at the end, correct) prediction about how long this shawl would take me. Yay, Stephanie! I'll send you an e-mail about the prize shortly.
I'm pooped. And I've got nothing to knit. The latter must be corrected immediately.
0
likes