What's the first whacked plan of the year? I hope you're nice and comfy and have Valium handy, because this is about to get very hairy.
My grandma has expressed her desire for handknit shawl very directly, and more than once. This means business.
I immediately started looking for a shawl pattern that would suit her. She told me that she wanted a triangular or square shawl, and that she trusted me to choose a design she'd like. On the knitting end, my only requirement was a pattern that is worked in laceweight yarn, since it's a challenge I have yet to conquer.
I came across shawl patterns by the Alpaca Yarn Company (formerly known as America's Alpaca) at a local yarn shop, and a little while later had many of them in my hot little hands. They are gorgeous. I know the Forest Path Stole is quite popular because it was reprinted in Interweave some time ago, but the others, not so much (correct me if I'm mistaken). The Winter Wonderland Shawl is one that I would consider for myself – it is really different!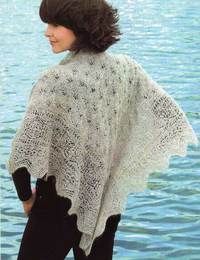 The shawl you see on the left, Misty Morning Shawl, is the one that immediately jumped out at me as something grandma would like. Maybe it's the scalloped edges? Or the leaves in the main part? I don't know, and although I don't plan to show the picture to grandma, I just know she'll love it.
When I examined the pattern, several concerns surfaced. First, the main part of the shawl is knit on 2.5 mm needles (US 1), and the border is worked on 3.0 mm needles (US 2). Often laceweight yarn is worked on slightly larger needles (oh, US 5-8, let's say), but I know working thin yarn on thin needles can lead to gorgeousness. Is this the easy way out? Hardly. Is Grumperina an easy way out kind of gal? Ha!
Second, the pattern is quite challenging. That whole purl or knit all wrong side rows? Not so much in this one – you've got to keep track of stitches when working both sides.

Third, it's not entirely clear from the picture alone, but this shawl is not triangular. In fact, it looks like this: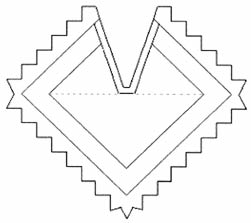 I was very concerned about this, since my grandma is as particular as the rest of my family, and also because I have no idea what that would look like from the front. The last thing I want is to knit something that would be deemed as "stupid-looking."
I sent a quick e-mail to two knitbloggers much more experienced in shawl knitting than I am (I'm not revealing who they are because if when this whole shebang fails, I am the only one responsible) and they set me on the right path. One told me that apparently shawls of this shape can look unflattering, and more importantly (I quote), "this shape is decidedly neither triangular or square."
She's right. My 77-yearl-old grandma, my one and only living grandma, deserves exactly what she wants – a non-stupid, triangular or square shawl. Which this is NOT.
You know exactly what's going to happen next:

Yes, I plan to do this. I don't know if I can. I don't know if it will work. I don't know if it will come out perfect.
But I want to try.
I've examined the pattern, specifically the way the borders are worked around the corners of the shawl (I see changing that as my biggest obstacle), and I'm somewhat optimistic. The hardest part will be figuring out how many stitches to pick up for the border highlighted pink here: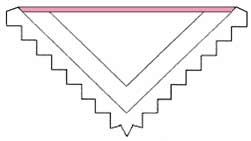 I'll get there when I get there…
A quick note on the yarn and needles: both were really easy choices. Only a few companies make 2.5 mm and 3.0 mm needles, since the typical US 1 is 2.25 mm and the typical US 2 is 2.75 mm – metal Addis it is! Yarn: once my grandma told me that she really loved the color of her Lorna's Laces periwinkle socks and would like a shawl that same color, I just ordered a skein of Lorna's Laces Helen's Lace in that very same color. I hope 1250 yards of this yarn will be enough, since the pattern specifies that 1750 yards of laceweight yarn are required. I think since I'm omitting those two front "wings," I should be okay. The yarn is gorgeous, luscious, soft, and delicate. A real treat for me as a knitter, and hopefully for my grandma as a shawl recipient.
Next: I organize a little contest. There may or may not be a prize ;).
0
likes