Hi, sweeties! You're too sweet to leave me all those nice comments about Sarit's hat.
I'm very excited about this! It was one of these design experiences that just worked which, ahem, isn't always the case at all. I'm truly, honestly and completely smitten with the outcome.
So much so, that I absolutely must have one of my own. Besides, it will also allow me to double-check the pattern. A quick stop to the LYS and Beadworks later, I have all the supplies: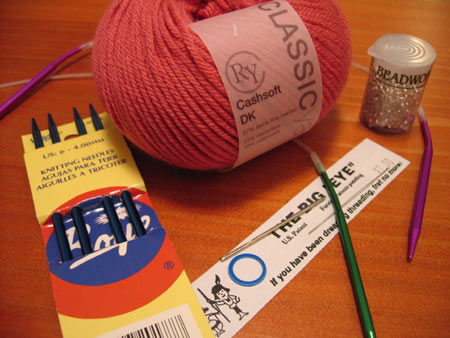 (this is my ultra-inconspicuous way of letting you know the ingredients, in case you want to rummage through your stash in anticipation of the pattern release)
1. 1 ball (1 ball!) of Rowan Cashsoft DK, 57% extra fine merino, 33% microfibre, 10% cashmere. The ball band says that it knits to 22 sts/4″ in stockinette on US 6. Of course all those stitches traversing the fabric on a diagonal create a different gauge in pattern, just like the Jaywalkers.
This stuff has fantabulous yardage (142 yds/ball), which is why one ball is enough. And it's not a tight squeeze – I had 8 grams (22 yards) left over after knitting Sarit's hat!
Hey, I better tell the gals at the skeinalong about this.
2. Size 6 beads, about 150 (sometimes marked 6/0). Sarit's hat has exactly 110, so be safe and buy a few more. I use a Big Eye needle to thread the beads onto the yarn, but there are alternatives.
Beads are entirely optional! In fact, imagine the hat in forest green sans beads – perfect for your favorite guy! By the same token, you can incorporate more beads, or fewer beads, or arrange them in some kind of interesting sequence. Whatever!
3. Needles: US 4 (3.5 mm) 16″ circular needle, US 6 (4 mm) 16″ circular needle, and US 6 (4 mm) double-pointed needles.
4. Stitch marker and tapestry needle
While I was at the LYS, I also (finally) picked up a second set of US 4 dpns to knit Ori's hat. Now I have a decision to make – which hat to make next? Mine, or Ori's?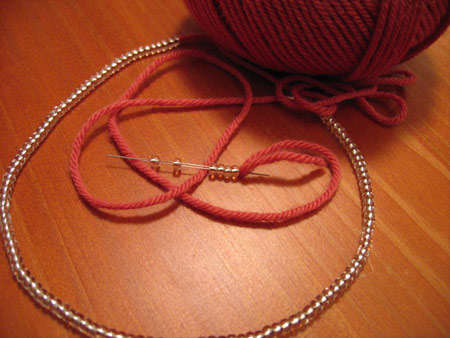 Oh, little Ori. You will have to wait for this selfish knitter to be done. She knits pretty quickly, though :).
0
likes