Grumperina's student writes, "The process of transcription is composed of initiation, elongation, and termination."
Oh my God – so does knitting!!!
Guess who'll been grading lab reports ALL. WEEKEND. LONG?
But, hello? How great were your suggestions to the babbling nonsense otherwise known as my last post? Thank you!
Seeing all the beautiful (and new to me) hat patterns out there gave me a pretty clear idea of what I want to knit for Ori, the older cousin.
From left to right (click on picture to be taken to corresponding pattern): Kate Gilbert's Shining Star, Marnie MacLean's Halley's Comet Hat, and Lacy Bonnet from Knitting for Two
.
No, I'm not knitting her the bonnet! However, the flower design at the crown of the head is similar in spirit to the other two, more grown-up versions. And I just love that!
Although Marnie's pattern is free, I'm leaning towards Kate's pattern because it offers more coverage and seems more appropriate for the winter.

I haven't made a firm decision yet because the yarn I've chosen for Ori is Debbie Bliss Baby Cashmerino (color 006 was perfect for her), which has a different gauge from both Marnie's and Kate's designs. However, I have a feeling that if I use this thinner-than-recommended yarn and knit one of the bigger sizes, I'll be all set. What do you think? Also, do you know of any other patterns with lacey stars/flowers at the crown of the head? Did I mention, I just love that?!?

For Sarit I'm going to try to design something on my own.

I had every intention of using DB Baby Cash for her hat, too, so I even swatched using some leftovers. However, at the yarn shop I fell in love with a particular shade of Rowan Cashsoft DK (#502), and so the plans had to be altered.

This is what I have so far: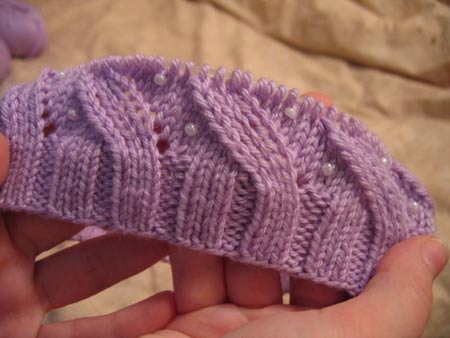 I knew I had to add some ribbing because the edge curls otherwise (don't pay attention to the cuff photo – that's knit in the opposite direction so you're seeing a bind-off edge, not a cast-on edge). I admit that I'm feeling quite smug for selecting a ribbing that blends right into the hat pattern – it wasn't a happy accident, maths and swatching were involved.
I am adding pearly white beads, and so far there is no trouble in paradise, although I see two potential areas where trouble might arise: first, I didn't swatch with this yarn. I swatched with DB Baby Cash and then took a guess about this somewhat thicker yarn. How big will this be? I need to knit a few more inches to find out. Second, I'm still a bit clueless about shaping the hat, although hints from readers have certainly given me some direction.
0
likes