I appreciate all your comments about the shawl. One day soon when I'm done with this thing (one way or another) I'll tell you out loud what I've been thinking all along. For now, you are my voices, and you often say what I'm feeling.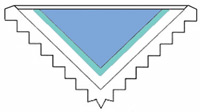 I have adjusted for the mistake in the pattern, and I have completed 18 rows of the border out of 47. I'll take a picture when I'm up to row #23 because right now it doesn't look like much. But I can already tell that this Spider Web pattern is freaking delicious. Gorgeous! Murder on my hands, though. Having to p2togTBL yarnovers and other funky stitches is mind-blowing, and I think it takes me an hour to do one row. I'm convinced that it's because I'm using the Metal Dowel brand of needles. Anyway, that's later…

For now, there is some hat progress to report!
Ori's hat!
A wise woman once said, "A knitter should know her limitations. For you, it's crochet."
It's true – the crochet hook and I just don't get along. Our relationship is perhaps a bit better than what I have going with the sewing machine, but that's not saying much.
Nonetheless, I braved the weird-looking knitting needle, and managed to use Emily Ocker's circular cast-on to start Ori's hat. Happy as a clam, I knit a good 15 rounds before deciding it was time to pull the hole shut.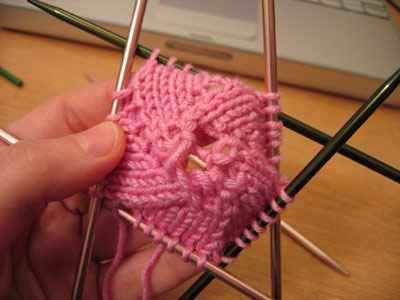 I pulled and pulled with all my might, and nothing happened! Two options – one is supposed to pull the hole shut before starting (and this definitely worked for me when I started again for the second time) or I trapped the yarn end in some weird way as I knit.
Anyway, second time was a charm, and I've now completed about a third of Ori's hat: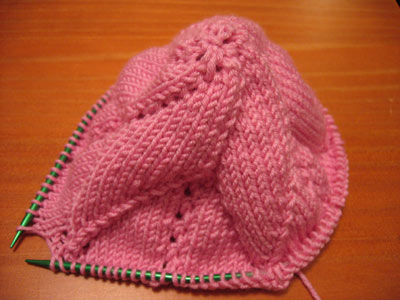 I have to admit that I'm having some reservations about the size I chose to do. DB Baby Cash, size 4 needles… I'm thinking I want to end up with at least 120 stitches. But this size works up to only 110. I knew the 120 stitch goal before I cast on, so what was I thinking choosing this size? I must have been in a shawl-induced delirium.
Also, the top of the hat has this weird cone shape – do you see it? The reason for this is clear – the increases aren't frequent enough. Two solutions – either have more flower petals and/or increase every row instead of every other row at the crown of the hat. If I end up frogging this cutie, I'll be sure to give those solutions a try.
There has been even more progress on my own Sarit's hat, but I think I'll leave that for another post.
0
likes