Not sure where to start.
From the beginning, I suppose.
Finishing the main triangle of my grandma's shawl made me very happy, but not nearly as happy as the realization that the hard part of this project was done.
Or so I thought.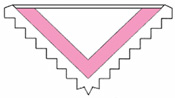 As soon as I hit "save" on my last shawl post, I started examining the chart for the first border, highlighted in pink here.
I immediately realized that something was wrong with the number of stitches I was instructed to pick up and knit around the triangle because the chart and the text didn't match up. I decided to trust the chart, counted the stitches on either side of the pattern repeat and went with it.
Confusion continued. The border is labeled as "garter stitch" in two places – right next to the chart, and within the instructional text. However, the chart looks unquestionably stockinette. I don't see a single purl in there! The shawl picture didn't provide any additional insight. So, I had to take a guess! The first option – the chart is correct and the pattern is stockinette. The second option – the writing is correct, the chart is entirely wrong, and the pattern is garter stitch.
I went with the first option. Found a small typo right away. Continued. Made little mistakes and fudgings to correct them (it would have been very helpful to tell the knitter if the first row is a wrong-side row or a right-side row. I'm still deciding.). Progressed.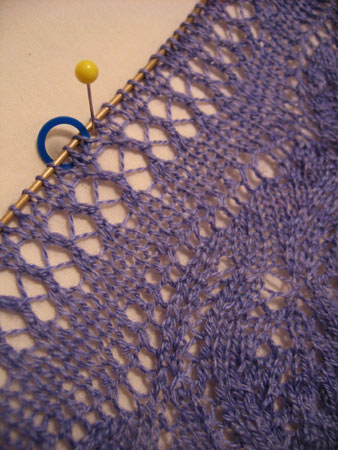 Doubted myself every second, every stitch, every row… sent Sharon an e-mail.
The damned thing is garter stitch. To quote,
"It is garter stitch. With every row worked, I didn't try to change the symbols on the purl rows – it makes the charts too hard to read. I chose, instead, to note it in the directions that every row is to be knit."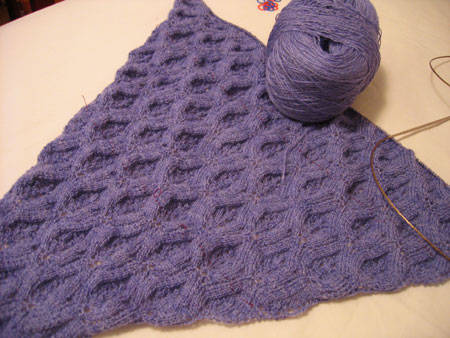 All gone!
Picked up 234 stitches again, knit the border as garter stitch. Eleven rows later, more than 2,500 stitches later, the meat and juice of the pattern began, and something just wasn't adding up.
I found it.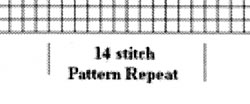 What is wrong with this portion of the chart?
WHAT IS WRONG WITH THIS PORTION OF THE CHART?
The ticks for the 14 stitch pattern repeat border off only 12 stitches. I've been working the wrong shit all along.
ANGER
0
likes