As much as I enjoy spending time with my family, nothing beats being here in my own surroundings. Aaaah! I welcome the regularity and predictability of the tough weeks ahead, even though I'll probably be nostalgic for lounging around on the sofa and watching soaps with my grandma in no time at all.
Check out the fam: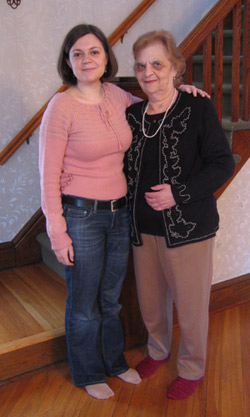 Me and grandma! She's wearing these Nancy Bush socks.
Oh, I really want to show you this picture: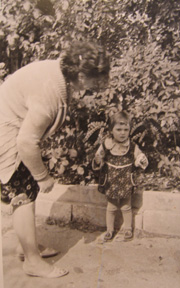 That's also me and grandma, except like 23 years ago. Look how she's trying to reason with me about something, and look at all that grumpiness at such an early age!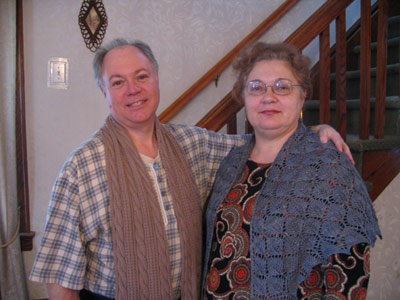 That's mom (in her shawl) and dad (in his Sharfik). I must say that seeing my mom in her shawl made me realize that I knit the perfect size. I mean, it's just right for her, not too skimpy, but not overwhelming. Sigh of relief!
I am often asked to post pictures of my family modeling my handknit goods (which is a sort of odd request, don't you think?), but I can't produce results on the spot because I live more than 200 miles away. But, during my tri-annual visits, I try to get everyone on camera, so there you have it!
There has been minimal knitting progress this weekend because I was grading lab reports pretty much every minute that I wasn't spending with my family, including the 9 hours of travel time.
The socks: turned the heel and knit a little bit past it.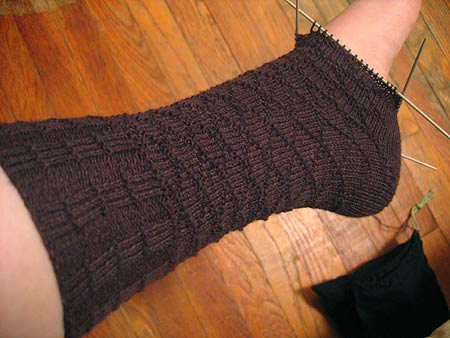 The shawl: found a gazillion more typos (yes, I'm keeping track of them), and another HUGE mistake that included changing several stitches over two right-side rows. It wasn't the same mistake as last time, but of the same kind, and with a similar solution, so at least it only took me 15 minutes to figure it out this time.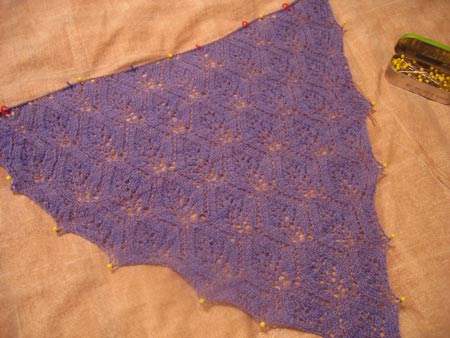 The shawl schematic: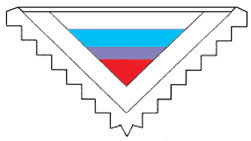 And now, guess what? More grading…
0
likes