Post undoubtedly colored by a hearty mix of antibiotics, pain killers, and anti-nausea medication.
Needle acrobatics.
Yarnover and some other googly-moogly stitch, purled together.
Take that, add yarnovers all around, and try, just try, to knit two together on the next row.
The stitches are irregular, some are twisted, some are suffocated at the neck.
Are you kidding me? That thing down there looks like three thousand square knots piled on top of each other!
Back to reality – the googly-mooglies need to be knit two together.
Poke and prod, split and drop, curse. Curse again. One more time, for good measure.
Move them to the right needle, loosening the running thread in the process. Ready to try the maneuver again?
Oh, I see the shiny tip of the dowel poking through!
The delirium prevents me from knitting the stitches in time. Both are dropped.
Curse. Again. This time in Russian – stinky/vile stitches!
Is it hot in here, or is it just my sweaty hands?
Get out the crochet hook. Thank God there's a lifeline two rows below.
Screw this k2tog, I'm just going to SSK, it's much easier!
I do it.
I take it out.
I can't have it – making a mistake is bad enough; knowingly making a mistake is a crime.
This is the part of lace knitting I hate. Maybe I need to get those fancy German needles? Ehh, I hate bamboo and wood, too slow.
Maybe I need to use my teeth.
Toes?
Try again: loosen the stitches, hold them at the base, bend wrist and elbow at the most unnatural angle imaginable, needle tip in, grinding my teeth, yarn picked up, stitches off needle…. Eureka!
Wheww!
What's next? Great – knitting other googly-mooglies together. My hands are starting to look like tree branches – stiff, crooked, angular.
So, are all the acrobatics worth it?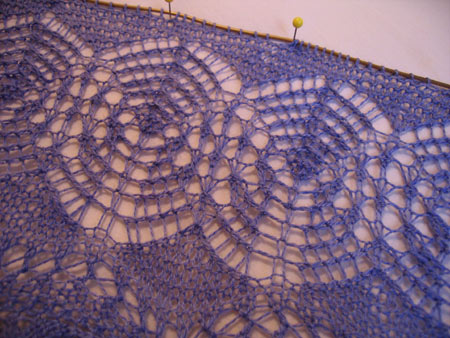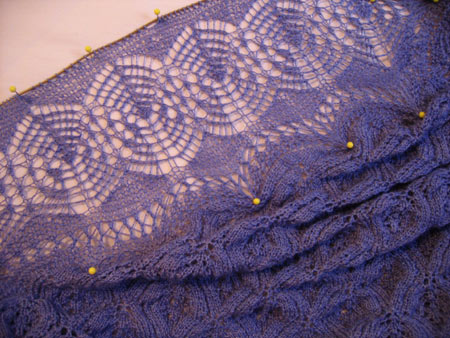 HELL YEAH! Look at those gorgeous googly-mooglies! Does that even look knit to you?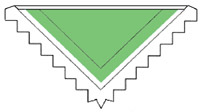 0
likes