Following your much-welcomed advice, I have put the shawl aside for the moment. I'm sorry to break the hearts of all those who guessed I'd be finished on Friday the 13th ;). When I pick it up again, I'll see about fixing HUGE #3.
Many of you have expressed your shock about such a mistake-ridden pattern, and are wondering what the pattern distributor and the designer have to say about this.
I want to let you know that I'm in touch with both, especially Sharon Winsauer, the designer. She writes, "As you are probably beginning to suspect, this shawl was not test knit, hence the number of typos."
I don't want to say anything else right now, because it's sort of the heat of the moment. I have decided that the best course of action is to push this thing to its limit (completion or unquestionable abandonment), and only then reflect on the experience both here on the blog, and in a letter to Sharon and Beth.
Anyway….
Hats!
I've never knit one!
When I started writing this entry, I initially typed that I had never knit a hat before, but then I remembered, there was that one time. Suffice it to say, no memorable impression was left by the experience, it was just sort of 'blah.'
Well, now I have a reason to get into the action!
During the latest visit to my parents, I was fortunate enough to see my great aunt and uncle and their family. It's clear that my grandma has been bragging to them left and right about my knitting, because they were eager and ready to ask for handknitted gifts :).
I have two little second cousins – Sarit is 3.5 years old, and Ori is 9.5. Those are both girls' names, by the way (just in case you're thinking, Ori? Isn't that the bacterial origin of replication?). Their mom has asked me to knit them hats, and I'm sort of clueless.
I don't even know where to start. I measured the circumferences of their heads (Sarit – 20.5", Ori – 21.5"), and I noted their color preferences (Sarit – lilac/lavender, Ori – medium pink), and now???
Is it odd that I feel so completely lost about this, that I don't even know where to start? I think knitting the shawl has brainwashed me.
Well, okay, I've thought a bit about the yarn, and most likely I will use Debbie Bliss Cashmerino (baby or aran). I've read many not so nice things about this yarn and Debbie Bliss yarns more generally (mainly people cite that it's too pricey), but let me tell you one thing – I can hardly tolerate even the softest wool next to my skin, yet I'm as happy as a clam to wear the scarf Polly knit for me. It's holding up like a champ, too. And that's all the testimony I need.
As for the pattern… I'm a pattern monger, yet I do not crave hat patterns and always skip over them when flipping through magazines and pattern books. As a result, I do not have any hat patterns for my little cousins! I have some Debbie Bliss patterns (you've seen a few, you've seen them all), I have Hats on!, and that's about it.
I do have one idea, though, for little Sarit, who's a girly girl ;).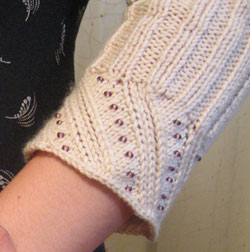 Remember those beaded cuffs I knit on the Mia Shrug? Many people have contacted me for the pattern, and I have been reluctant to disclose it for a simple reason.
You see, the shrug is knit flat and then seamed, while that cuff pattern is exponentially easier to knit in the round. I just haven't bothered to explain how to knit the cuff, and then transition into Karen's pattern.
But a hat… now that's something you can knit in the round! And wouldn't a cute beaded hat be just the perfect thing for a cute 3-year old?
I have to think about incorporating decreases before I even suggest that I'll be able to come up with a pattern. Plus I know nothing about hat sizing and shaping… nothing at all… (You hear me? Don't get too excited.)
Speaking of sizing, is it true that I should aim for about 2-3″ of negative ease? I base this by comparing the circumferences of my best-fitting hats (20-21″) and the circumference of that melon that sits atop my neck (23″). Plus this somewhat confusing webpage.

0
likes