Kimono sleeve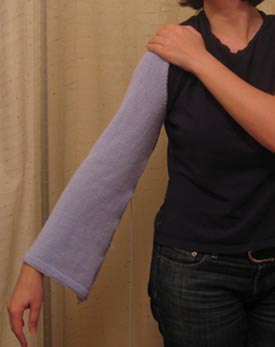 When I took the finished sleeve out of the tub, it was large enough to comfortably serve as a sail.
I kid you not! I was like, WTF?!? I aimed for 16 3/4" to armpit and 15" at the cuff, but this monster grew to about 20" to armpit, and about 17" at the cuff. I knew the cuff was going to stretch, but the length to armpit totally messed with my head. All those calculation, and now what?
I let the sail dry (without pinning) for about 24 hours, and no big surprise, it shrunk back up! As I handled it a bit this evening, it continued to reshape itself until miraculously it was close the size I intended it to be – 16 1/2" to armpit, and 15 1/2" at the cuff.
If I say so myself, it's looking pretty good!
At the same time, it's been a bit puzzling and very nerve wrecking to knit this from scratch while taking the ever-changing fabric into account. Knits up at 6.5 spi, becomes 5 spi when wet, then dries to 5.75 spi. Tomorrow it may change its mind once again. How can anyone tolerate such fickle yarn? Oh yes – it's my little angel baby kitty bunny goodness foofoo.
Votive sleeve
There has also been some progress on the votive sleeves: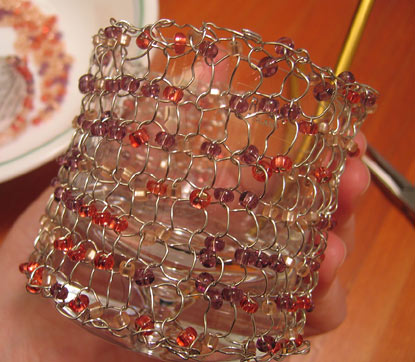 I'm enjoying this project very much, although it's going a bit slow. First, it's much slower to knit with wire than with yarn (am I stating the obvious?). Second, the intense movements hurt my hands, elbows, and shoulders if I knit for too long of a time. The hardest part is definitely the first stitch of every row – it's like some kind of upper arm acrobatics! So I've been taking it easy, working just a few rows every day.
Just like with the Kimono sleeve, the votive sleeve supplied plenty of gauge puzzlement. I followed the pattern exactly, but at first my votive sleeve wasn't nearly wide enough for the votive. I wrote a quick e-mail to Annie, and she explained that wire fabric needs to be shaped (blocked, if you will) after it's knit, just like typical knit fabric! Armed with that info, I tugged the sleeve this way and that, and voilà! And the sleeve width will stay this way, too!
One more thing: the knit and purl sides look different enough to me to actually consider which one I want to be the right side. I'm sort of leaning towards the purl side (above) because it shows off the beads better, although the knit side is quite good-looking, too ;).
0
likes