I need to have a sock project going at all times. It's really weird and not at all surprising. My bag feels empty if there isn't a little sock project in there. What will I whip out while I stand in line at the post office? What will I knit when my computer at work takes 20 minutes to process my images? What will I take to the lunchtime Stitch 'n Bitch? It's not the Kimono-inspired sweater, which already has four pages of notes associated with it, it's not that lavender-colored lace scarf, a project which I can summarize as follows: no recipient, no progress, and it's not grandma's shawl, which I am not planning to start until the new year anyway.
Socks, socks, socks. Must knit socks. For (who else?) grandma. I am so happy that grandma likes wearing wool socks, because I'm not sure who else in my family would like a pair. Dad got one pair once, and hasn't asked me for another since. Grandma, on the other hand, asks (love the grandma!). I'm hoping that one of these days I will absolutely overwhelm her sock drawer with beautiful handknit socks, to the point of convincing her to toss some of the older, worn, darned pairs.
Since I finished the last pair a few days ago, it was time to start a new one. Off to the stashette!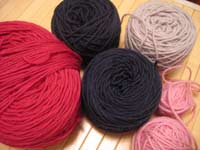 My original thought was to use up some Louet Gems Opal leftovers. The regulars know that this is one of my favorite yarns – quality superwash sportweight, which behaves beautifully. I had some silvery gray, dark blue, and pink left over from former projects, and I weighed them to determine if they would be enough for a pair of socks. The verdict: not quite. I have nice amounts of the silver and blue, but the pink scraps didn't bring up the total to a usable weight. Okay, fine. I decided to combine the silver, blue, and a brand new hank of crabapple blossom, a deep, dark pink. I cast on, knit three rows, and the whole thing looked incredibly patriotic. While fine for some, this look does not fly over very well with grandma. NEXT!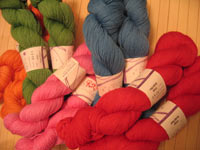 I inspected my stashette of Lorna's Laces Shepherd Sock. Don't even look at me like that. I know some of you have stashes that are ten times the size of this! While these colors are yummilicious, they are all too bright for grandma. NEXT!
(the answer to the obvious question – since these colors won't work for grandma, I will have some lucky pals in future sock exchanges)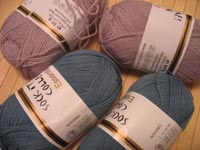 I looked at my Sock It To Me! Essential 4 Ply from elann, which was purchased with grandma in mind. I petted it, and looked at it from this angle and that, but it just wasn't speaking to me this time around. I think I'll knit it up at some point, just not right this very minute. NEXT!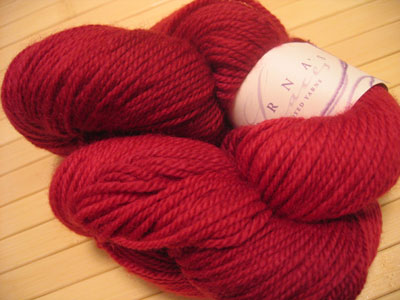 This left only one candidate – two skeins of Lorna's Laces Shepherd Sport in cranberry. To be perfectly honest, this isn't exactly a grandma color – a little too bright – but I think it can be pulled off. The yarn is a lovely 100% superwash wool, incredibly soft and completely inappropriate for a sock. It's okay, it's for my grandma, but I think these will not last more than a month or two – too soft. Then again Twosheep June tells us, "I suspect a looser-spun 3-ply would wear quite well, maybe even better than a tightly spun 2-ply yarn." June, I'd like to let you know that Emily, Carrie, and I discussed this at lunch the other day, and we are skeptical ;). I'm looking at this stuff, and I just cannot imagine it would wear any better than the Shepherd Sock, which seems so much more durable to me.

Choosing a pattern for this yarn was a bit tedious, and I tried Whitby (N. Bush, KotR
) and Fancy Silk Sock (N. Bush, KVS
) before finally settling on Gentleman's Fancy Sock from Nancy Bush's Knitting Vintage Socks
. Again, highly ironic to be knitting these socks for grandma (remember her Child's First Sock socks? Haha!). I modified the pattern for this thicker yarn, and although my instinct was to poo-poo the calf shaping, I've decided to leave it in and see how it goes. Here's what I've got happening so far: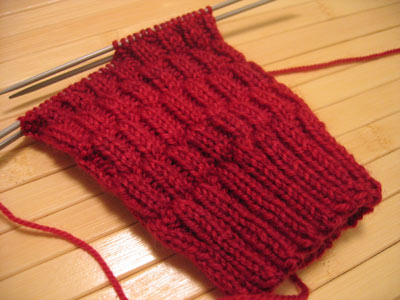 Oh yes. I think we have a winner ;).
0
likes