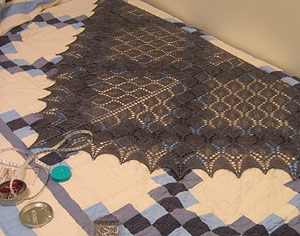 Two observations: first, it's huge. Mom didn't want huge. Mom wanted an oversized bandana. Hopefully it relaxes a little after it's dry and handled a bit. Hopefully. I cross my fingers. Second, I have nowhere to sit and knit, since the drying it taking up the entirety of my couch. I'm resenting this shawl for interfering with Kimono sweater knitting.
Just kidding ;). I don't want the shawl to hear me and resent me and get even bigger ;).
In the meantime, reading through all your comments (wonderful comments – thank you!) on the votive sleeves made me realize that there were some important points I didn't address.
Some general thoughts about knitting with wire: it is certainly a very physical undertaking. All movements are exaggerated and a lot more force has to be applied to "the yarn" in order for it to mold into a stitch. There are a lot of false moves – trying to get the wire through the stitch, but not being able to do so on the first try. Here, take a look for yourself: (why is it that everything Annie touches is cool enough to warrant a video?)
Update: The video has now been taken down, thanks for watching! Drop me a line if you'd like me to direct you to its location.
The video is short and small because I pay for my own bandwidth. I will take it down in a few days. It was filmed using my Canon PowerShot S500, and edited in a Mac OSX environment using iMovie. This is a .mov file and can be opened with QuickTime or RealPlayer.
I know it may be hard to see the wire. I encourage you to make a bigger and better video and share it with all of us!
What do you think? Pretty gruesome, eh? Now I think you can imagine why this is more time consuming than knitting with, let's say, wool, and why my arms hurt after knitting with wire for too long of a time.
Another thing occurred to me while talking to Betsy – it seems to me that the best way to ensure success when you're knitting with wire is to minimize wire movement because it's much easier to make "virgin" wire behave than wire that's already been molded in some way. For that reason, I think knitting Continentally, where the yarn sits idly prior to becoming a stitch, is the way to go. I can't quite fathom what it would be like to wrap ("throw") the wire around the needle as you would when knitting English style, and then pull it through the loop. Furthermore, knitting in the Combined style (à la the one and only Annie Modesitt, and what I'm doing in the video) is even better because the purling is much less movement-intensive.
Laura asked me to show the seams of the votive sleeves, and I'm happy to oblige.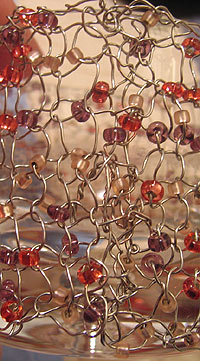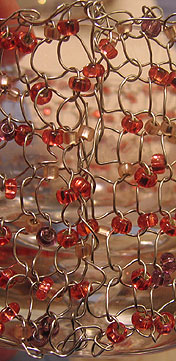 The first one was created by traditional grafting – I was joining the live stitches at the end of my knitting with the cast-on. This was very tricky to do, because grafting involves a lot of wire maneuvering, and I think by now you know that it's hard to work with wire that's been shaped before. Furthermore, as the wire is shaped and re-shaped more and more, it becomes frail. In this case, when the grafting was about three-quarters complete, it broke, and I had to use the cast-on tail and work in the opposite direction. A big mess resulted.
The second one was created by simply weaving the working wire in and out of the live stitches while joining them to the cast-on edge. The wire traveled through each stitch only once, remained straight and strong as a result, and it was very easy to even give it a gentle tug at the end to straighten everything out. It's not seamless, but it's much easier to do.
There you have it! I hope that this sparks your interest, and that now you're fully armed to decide whether knitting with wire is something you'd like to try!
0
likes