"What's this," you ask?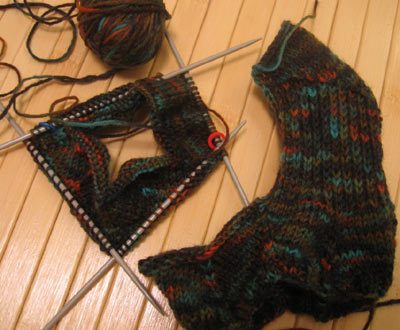 Oh, just a little pattern maintenance homework, if you will ;).
When it became apparent that many knitters were not able to get a properly-fitting Jaywalker following my pattern, I decided it was time to do a little update and write up two more sizes – bigger is often better, especially when it comes to tight socks.
But before I could give out any numbers to the trusting knitters out there, I certainly had to sit down and at least turn a heel or something. Which I did, and of course I caught some mistakes, so it was a good idea :). I also followed Natalia's toe-up Jaywalker instructions to double-check the numbers. While I didn't check or work the actual toe-up flap heel (how cool is that?!?), the rest of the numbers matched up to the original pattern perfectly – thank you, Natalia!
Oh, and Cara is the fab Jaywalker KAL hostess with the mostest over at january one, so pay her a visit! Just a few days ago she put together a post with some very helpful pattern info.
If you're saying to yourself, "geez, I already finished my Jaywalkers!" then you should consider having a picture of your little bundle of joy in the gallery – leave me a comment if you're interested!
But for all of you still working, for all of you who perhaps aimed to make a Jaywalker with an 8" circumference, but came up with something that was only 6.5 inches, here's the deal:
If your gauge is significantly tighter than the specified 38 sts over 4 inches / 10 cm in zigzag pattern stitch, you may want to try knitting the sock using more stitches, an obvious first step. Starting with 84 sts gives a sock that's 10% wider than the smallest 76-stitch sock; starting with 92 sts, the sock is 20% wider, and starting with 100 sts, the sock will be 30% wider than the smallest 76-stitch one.
The instructions for the 84-stitch sock are in MagKnits, and the details for the 92- and 100-stitch socks can be found on the new Jaywalker page.
And if you catch any boo-boos, you let me know, okay?
0
likes