Claudia does this often.
Me: Hey, Grumperina, you've got enough to knit?
Me: Why, yes, thank you for asking. I've got a pair of socks for grandma to finish, a shawl for my mom to think about, and I've been toying with the idea of knitting a Kimono-inspired sweater for myself.
Me: Hey, Grumperina, wanna see what I took out of the library yesterday? It's the new book from Melanie Fallick, Handknit Holidays
.
Me: Ooh, beautiful photography! Lots of interesting things here!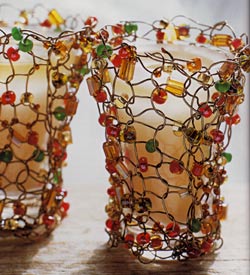 Me: Hey, Grumperina, did you see those wire votive sleeves by Annie Modesitt? Aren't you a big fan of her designs and ideas, and haven't you always wanted to try knitting with wire?
Me: Now that you mention it, yes. Annie's Confessions book has a whole chapter on knitting with wire techniques, which I always found extremely enticing, but the featured jewelry projects just aren't my cup of tea. But votive sleeves… that's something I can see myself using!
Me: Hey, Grumperina, I can sense you're getting weak. Want to go to Beadworks to just "check it out"?

And that was that. I knew it was all downhill when I joined the Knit-along.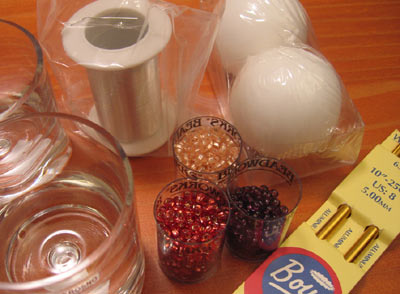 I got all the stuff except the smooth needle-nose pliers. Beads: I had some mauve beads left over from making the cuffs of my shrug, so I got some peachy-gold and strawberry beads to match. Wire: I decided to go with silver-tone wire. Votives: I had a hard time finding slim votives like the ones in the book, so I got two fatter ones from Crate & Barrel. Like the ones in the book, they are 2.5″ high. The round candles are also from there.
As for the pliers – I have a huge fear of them, just like people have a fear of bugs or heights. I see them, and I immediately imagine them yanking my teeth out… shudder. So, for my wire adventures, I decided to order some pliers online instead of visiting the local hardware store. I think they'll be delivered soon, and more importantly I don't think I need them until the votive sleeve is finished.
This project is most exciting to me right now, and I'm very eager to get started!
As for the Kimono-inspired sweater, I haven't had the chance to really sit down and think about it yet. But, you know, sometime soon…
Or maybe I have and just don't want to blog about it! (my blog and all…) Maybe I've already finished a back and have started on the front!
A girl can dream…
0
likes