I had a heart-to-heart with my planner today, and it looks like it's my turn to take a little recess. While Christmas and Hanukkah are completely foreign to me, New Year's and my favorite holiday of all, affectionately called "visiting the folks when everyone else is not traveling," are coming right up. We chatted, we counted, added and subtracted, and it looks like I'll be spending over 17 hours traveling within the next 1.5 weeks. That's a lot of time sitting on my butt, also known as quality knitting time. Not to mention a lot of time sitting at my folks' house knitting, quality in a different sort of way.
I need to get my knitting in gear before all my travels begin!
While I'm currently scheming many big projects, the trip I'll be taking this weekend requires something quite minimalist, something I won't mind toting around NYC for the entirety of a day.
I know (I know!) I sound like a broken record – socks!
Here's the shocker – not for grandma. Dude, what's up with that?
Did I mention that in addition to the cutest grandma in the world I have the cutest dad in the world? Remember this? That man is something else entirely, and were I more liberal in what I allow to make its way to my knitting blog, I could tell you all kinds of stories about my papa.
I digress.
---
Thursday, December 22nd, 12:55 p.m. Phone conversation with my grandma.
Me: Hi, grandma! I saw some missed calls on my cell phone last night, I just wanted to let you know I'm okay and didn't see them until it was too late to call.
Grandma: Oh, yes, your mom called. How did you know she called? She didn't leave you a voicemail or anything. I told her, leave her a message; otherwise she'll never know you called.
Me: I can tell from my cell phone, though.

Grandma: Well, she called because I received your socks! These are the best yet – thank you!
Me: I'm glad you like them, and you're very sweet to say that about every pair I make for you.
Grandma: The color is perfect. I love the color. And the fit is perfect. It's as though you were trying them on my feet as you were knitting, every step of the way.
Me: I'm so happy to hear that. So you like the fit?
Grandma: Yeah.
Me: Do you think it's because I made a different heel?
[note: this is the first pair of socks for grandma that has a short-row rather than a flap heel]
Grandma: Oh! I didn't even notice! I think that must be the case. I put them on, and they were perfect.
Me: Yeah, I made a different heel. Actually, I knit these differently – I started from the toe, then knit the heel, and then the leg!
Grandma: How interesting! I guess you typically knit the other way around, from the cuff to the toe?
Me: Yep.
Grandma: Well, they fit really well. And where did you get that pattern? They are really pretty.
Me: I was inspired by this one pattern, but then made up this one as I knit.
Grandma: It's beautiful. The color is so nice. You know when you knit me a shawl, I would love it to be this color.
[note: when you knit me a shawl, NOT if you knit me a shawl!]
Me: Oh!?! Thanks for telling me.
[big note to self]
Grandma: You know, different people like different things, I just don't like colors which are too bright.
Me: Thanks for telling me. I think it won't be difficult to pick a color for you, I know the kinds of colors you like. I bought this purplish blue specifically with you in mind; I knew you'd really like it.
Grandma: I was talking to my SIL yesterday, bragging about these socks, and we were both amazed you have time to knit so much. I told her that you find this ultimately relaxing, and that you knit really quickly.
Me: It's true, it's very relaxing for me! And socks are a weakness – I always seem to be knitting a pair. They are so small, you can put a little sock project into your bag and knit it a little at a time. You know, not a stitch of these last socks was knit at home! I knit them on the bus, while I stood in line, when I met up with friends, but never at home!
Grandma: Oh, but you seem to have finished them so quickly.
Me: Not true! I finished those beige ones for you within a few weeks, but these took me several months because I only knit them when I was out of the house.
Grandma: Well, maybe now I'll finally consider throwing out that first pair you knit for me. You know I haven't…
Me: [interrupt] I know you haven't thrown them out, no matter how much you "plan" to do so every time.
Grandma: Because it would be just so simple to cut off the foot and knit a new one.
Me: Grandma, it's not going to happen – I don't have enough of that yarn to do so, plus I don't want to knit something that I've already knit. It is much more interesting for me to knit you a whole new pair of socks, using a new pattern. One day I will knit you twenty pairs, and then maybe you'll throw out some of the worn ones.
Grandma: Well now that I have five, they aren't getting worn out nearly as quickly, because I'm wearing each for a little bit.
Me: Good, and I'm making you more. I'm so glad you like handknit wool socks, because I love making them, and if you weren't interested, I'm not sure who I'd knit them for!
Grandma: Yes, and your dad wears the ones you knit for him inside the house. He can't wear them inside his shoes because they are too thick, but as soon as he comes home, he puts them on. His feet have been getting very cold lately.
Me: Huh. Do you think if I knit him a pair of thin wool socks, as thin as this last pair I made for you, he'd wear them to work? He hasn't asked me or anything…
Grandma: I know he hasn't asked…
Me: I bet if I knit him a thin pair that he can wear inside shoes, he'd like them. From a dark, dark gray.
Grandma: Well… Anyway, thank you so much. These socks are the best.
Me: You're welcome! You know, I've started [and finished] a new pair for you already.
Grandma: [laughs]
Me: Except I know they won't last very long. The wool is so, so soft.
Grandma: Well, that's good!
Me: It's good, but they'll wear out quickly. It doesn't matter! I'll just knit you more ;). I better go and get back to work, and you better go because All My Children just started.
---
A few days after this conversation I brought up the idea of thin dark socks to my dad, which he violently rejected. Too late – I had already bought the yarn ;). Good thing that his feet and my grandma's are the same size – if he doesn't like them or doesn't want to wear them, he can dump them on my grandma.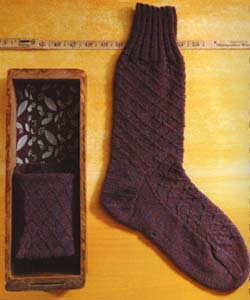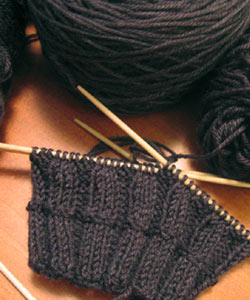 The pattern I've chosen is another one from Nancy Bush's Knitting Vintage Socks, called Gentleman's Sock with Lozenge Pattern. This one is SO manly, my dad will definitely approve. The yarn is Lorna's Laces Shepherd Sock in charcoal – very dad-friendly. For a change I'm using bamboo dpns, 5″-long Brittany birch US 0s, to be precise. As much as I adore knitting with metal needles, they do hurt my hands a bit after long knitting sessions (where the soft, cushy parts of my palms wrap around an inflexible metal rod).
Because my dad has rather small feet and the pattern is written for a 9″ foot circumference (BIG), I removed one pattern repeat and am working the sock over 70 sts instead of 80. I hope this will be small enough.
In any case, that's the goodie that going into my bag during my upcoming trip! We'll see how much I'll have completed when I come back :).
0
likes