As you remember, I mailed off the two-thirds completed Curlicue and enough yarn to finish it to Oat Couture a little while ago, and now the project has been mailed back to me: time for an update!
All along I have been corresponding with a woman named Annie at Oat Couture – I believe she may be the owner of the company, but I don't think she wrote the pattern. Annie took it upon herself to examine my work-in-progress, work on it some more, and determine what went wrong. I know I'm a grumpy person, and I know all my exchanges with Annie were firm, BUT I always, always, always let her know that I very much appreciate her attention, time, and consideration. If all designers and pattern writers followed up as she did, our knittery lives would be much easier.
Initially Annie hypothesized that I was wrapping too tightly when making the short rows, but upon receiving the blanket and working a few more sections she decided that it was a matter of gauge. In an e-mail she wrote me, "I realized that there is another factor having to do with the stitch gauge being proportional to the row gauge. I measured your gauge at 20 sts. and 35 rows to 4″, so, in this instance, you need a lot more rows in proportion to your stitch gauge to knit an inch. This is why your coverlet is puckering. … Thanks again for sending it out. I am mailing it back to you this afternoon."
I accepted this explanation for the moment, thanked her again, and eagerly awaited the return of the Curlicue (because, ahem, I wasn't exactly buying it).
Behold!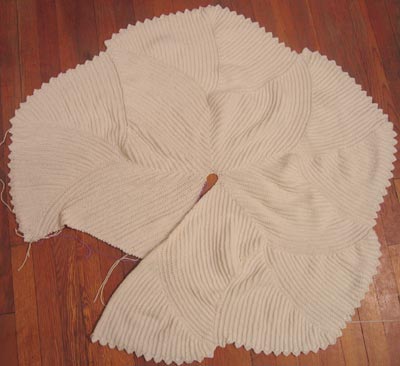 Not entirely educational, but rather impressive. For those counting, I knit 10 sections, and Annie knit another 4 – this blanket is therefore 93.3% done.
Let's go in for a close-up: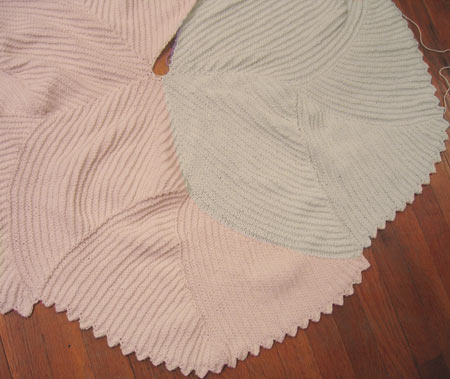 The sections I knit are shaded a bit pink, and the sections Annie knit are shaded a bit blue. Do you see what I see? Although Annie's knitting is clearly different, the sections worked by her STILL pucker.
I proceeded to measure the gauge of her knitting and mine. I measured my knitting to be 21 sts and 34 rows, and Annie's knitting to be 20 sts and 32 rows (in pattern). If it is proportions that matter, my stitch/row ratio is 0.618 and Annie's is 0.625. The pattern calls for 0.647 or 0.643, depending on yarn weight. As far as I'm concerned, first, both of our tensions are mighty close to the pattern. The pattern specifies the double-knitting yarn gauge as 22 sts and 34 rows – how much closer could I have gotten to that?!? Second, if such little differences matter, well then Annie's knitting is much closer to mine than either of ours to the pattern!
Can you help me make sense of this? What am I missing?
In any case, knitter beware: if it's still puckering after the people who wrote the pattern work on it, I would be very cautious about making this project.
I e-mailed Annie once again a few days ago, thanking her for her time, but reiterating my concerns, citing that the sections she knit still pucker, and that our gauges are very close to what's specified in the pattern. I haven't received a response yet.
And before you say anything, there's no way I'm finishing the Curlicue. To be perfectly honest, I'm not so crazy about the sections Annie knit, and I'd insist on taking them out (I am not saying this arrogantly, but rather very matter-of-factly: my knitting is much more even). Then I'd be faced once again with spending my not-at-all-disposable knitting time on a project that's destined to produce a result that won't make me happy. And that's just not going to happen.
---
On a more cheerful note, a week ago I gave Grumpecue to my coworker and her husband. Her reaction was wonderful – she was so thankful and hugged me so many times. She kept saying how beautiful it is, how great it is to have something handmade for the baby, and how she really loves the softness of the blanket. Which reminds me – no matter how impressive a design, functionality, color combinations, and fit, non-knitters only seem to pay attention to softness.
Anyway, I left work that day feeling like I was floating on cloud 9! I thought to myself, screw all these other projects, I just want to go home and knit for my coworker's little babe because I know the gift will be appreciated. I went as far as to mentally run through the yarns in my stash-ette to see if I could cast on that night! I came to my senses by the time I got home, though :). Kathy, there's time. The pre-baby gift has been given, the baby won't be born until mid-January, and there will be many birthdays thereafter. Chill out ;).
A little while later (to add insult to injury, if you will), I received lovely notes from both my coworker and Jennifer, thanking me for their gifts.
This handknit gift idea rules ;).
0
likes