You know those kid-on-a-leash things? I need one. The harness would go around my body thigh, and the end would be attached to my apartment's doorknob. Because going outside, particularly downtown is just trouble.
Yes, I went to that store this weekend. On the plus side, it was so crowded with Christmas shoppers that I couldn't bear the idea of standing in line for the fitting room. But that's the minus side, too, since they had some cute things on sale.
But guess what I saw? Remember a while back I told you about the knit kit, carried at Anthropologie for $98? They had it at the store this time, and I got a good look at the goodies inside. Now I think we'll be in the perfect position to judge whether (1) the price is reasonable for what's contained within and (2) whether this type of thing is appropriate for someone learning to knit for the first time.
In addition to the scanned picture from the catalog and the picture from their website, we now also have a shitty-quality camera-phone picture and (finally!) vital content and approximate weight/yardage information.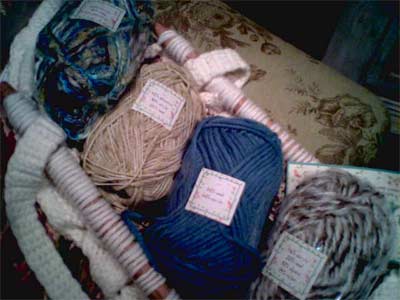 The kit contains:
1. Four skeins of yarn, from left to right:
speckled blue: 80% acrylic, 15% wool, 5% polyester
solid beige: 42% polyester, 30% acrylic, 28% wool
solid blue: 50% wool, 50% acrylic
speckled beige: 56% acrylic, 20% wool, 10% alpaca, 14% nylon
The yarns are next-to-the-neck soft, and they struck me as middle-of-the-road quality, like KnitPicks yarns, let's say. I'm guessing that each of these is a 100 gram skein, which is quite a lot! The yarns are approximately worsted weight, maybe a bit thicker, so I think something like 180 yards in each skein is a good guess. As you can see, they are interesting in color and texture without the awful look, smell, and feel of Fun Fur. And while only the solid blue would allow perfectly distinct stitches, none of these are fuzzy/weird enough to be that troublesome! Personally, I don't think these are the best yarns to teach someone to knit, but there is a lot of stuff out there way worse.
2. A "learn to knit" booklet, with instructions and drawn diagrams for making a slip knot, casting on using the twisted loop method, the knit stitch, casting off, and making fringe. In my opinion, the diagrams are pretty poor, but I didn't get the chance to look through the written captions.
3. Measuring tape – standard issue, non-retractable kind.
4. Crochet hook
5. Straight bamboo knitting needles, approximately US 8-9. Both the crochet hook and the knitting needles were not finished to be smooth, which I can see as a potential problem with snagging the yarn.
6. The whole thing is enclosed in a pretty stylish bag, 50% wool, 50% acrylic, lined with a printed flower fabric.
So, what do you think?
Personally, I was surprised to see such hefty skeins of yarn! In fact, I'm a bit concerned with how huge of a scarf those four balls will make, considering I used only 100 grams, 180 yards (the equivalent of one of their balls) to make my green Berroco Plush scarf. I paid a total of $21 for that 100% acrylic yarn, by the way, so Anthropologie is selling the equivalent of $84 just in yarn, and all of it has wool content! Maybe this is not that bad of a deal!?!
To sum the whole thing up: we have the equivalent of eight 50-gram skeins of very soft (this is NOT Wool Ease), stylishly colored, wool blend yarns at, let's say, Berroco prices – $10 each ($80), a crappy knitting booklet ($3), crappy knitting needles ($4), crappy crochet hook ($4), crappy measuring tape ($1.50), and a fairly nice bag ($30). Adds up to $122.50, my friends, and they are charging only $98.
Edited to add: the polls are now closed! Here are the results: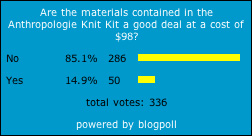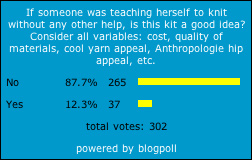 The votes are not surprising at all, but I think there's one line of thought that's underrepresented. If you think of yourself as the gift-giver, that kit is a joke. We are "in the know," and we can put together a kit that's luxurious and enticing with better quality materials for much less than $98.
But think of yourself as the consumer – a woman in her 20s who doesn't know anyone who knits, who doesn't know about all the resources out there at local yarn shops and on the web, someone who "doesn't know any better," if you will. If such a woman stumbles upon this kit at the Anthropologie store, I think this kit is a good idea ("yes" to the second question I posed). It has the cool Anthropologie appeal: she can say to her friends, "Look at what I got at Anthropologie!" and they won't frown in the same way as if she said, "Look at what I got at that yarn shop in Boston." Not that she would ever even venture into a yarn shop. The yarns are cool and totally wearable, and as soon as she realizes that the booklet sucks and the needles suck, she'll get her butt to the yarn shop and we'll have a convert for life.
At least that's how the scenario plays out in my head :).
0
likes