Thank you guys for all your compliments on the votive sleeves! I got a fair number of interesting questions, and I'll address them in a quickie post some time this week.
But for now…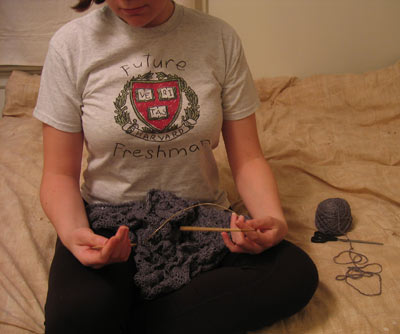 (the t-shirt is clearly very tongue in cheek)
Huh.
Hmmm…
Looks like the needles are out and the yarn is cut.
Could it be that I'm done knitting mom's shawl?
It's done! I'm by no means breaking any records here, but that was pretty quick!
How quick was it? Well, there was the Saturday, the Sunday, the Tuesday… and yes, the Monday, but I was illish that day. Minus 3.14, plus working 6 hours on Saturday, the Pascal units cancel out, but then there was the votive sleeve knitting, divide by 9.8 m/s2, add prepping for and teaching my last class (I hope ever), I better throw Avogadro's number in there somewhere, raise to the power of the sixteen thousand hours it took me to bind off 300-odd stitches using that funky-ass bind-off that I swear sucked the life out of me and my hands, and we get…
FOUR DAYS
Woohoo!
You know what it is? Sometimes everything comes together, and it's just magic. The pattern is very well-written, the yarn is divine (it feels wonderful and has spectacular drape), I liked the needles and the way the yarn knit up on size US 7, and although the chart was always by my side, eventually I could watch TV or talk while knitting (apparently this is a must for me, otherwise I feel too idle). Ahhh!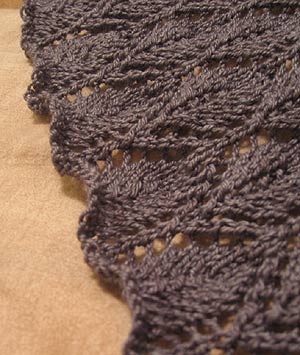 All you Leaf Lace knitters out there – what is UP with the bind-off in this pattern? I really hope that it has some decorative or functional purpose because, damn, it was the most tedious thing ever.
Now, if you'll excuse me, I've gotsa get my block on (link courtesy of Savannahchik Jody).
0
likes