November 15, 2005, 9:10 p.m., phone conversation with my mom
Me: Did dad like the Sharfik?
Mom: Yeah, he liked it. He wrapped himself up in it, and he's prancing around.
Me: Did he like the color?
Mom: Yeah, it's a nice color, it's nice and neutral, and when he gets it dirty, you won't be able to tell.
Me: You know, you can wash it. Cool water with a little detergent, then lay it out to dry.
Mom: Oh yeah? Well, I'll wash it in the spring when I put all the scarves away.
Me: It was nice to knit for him. And I like knitting for grandma.
Mom: Those last socks you knit for her were spectacular.
Me: You know one of those came out smaller than the other. It's because I knit the second one after I had graded a pile of reports, and I was so pissed off and tense.
Mom: (Laughs) They are still so nice. Grandma coordinates her socks with her outfits when she goes to the doctor.
Me: That's cute. So, yeah, scarf for dad, and socks for grandma, I guess that's my knitting! I don't have much to knit for you – you're like me, but worse – always hot.
Mom: Yeah, I can't wear wool socks, and my scarves are light silk, I guess.
Me: I guess there isn't much more for me to knit except more socks for grandma! Although… there is one thing that has really interested me. So there is this really challenging technique – you take very thin yarn, and fairly thin needles, and knit this delicate scarf-like thing. What do you call that in Russian? Grandma has one, except it's not knit… the green and gold one with fringe. It's like a big square, and you can throw it over your shoulders when it's cold inside the house or wear it under a coat.
Mom: Poncho?
Me: (uttered with a tone of disgust rather than protest) NO! I will not knit any ponchos. It's like a big square, maybe a meter or meter and a half across.
Mom: Shawl?
Me: Yes! Oh yeah, in English it's also called shawl. So yeah, the technique for knitting a shawl has really interested me, but you know I wouldn't ever wear a thing like that! I was thinking that if Grandma ever asks me to knit one for her, I would be up for it. It would take at least 6 months, I think, so it's a long-time investment, but I would enjoy it.
Mom: Yeah, I imagine a thing like that takes a while. But it's so fancy, where would she wear it?
Me: It doesn't have to be fancy. I mean, it can be as fancy or as simple as she wants.
Mom: Isn't it a triangle?
Me: Well, sure, some are triangular, and some are square or round and you fold them on a diagonal. Anyway, I am not going to offer to knit it for grandma because I don't want to force my knitting on her, especially such a big project, but if she ever thought of it herself, I would knit it for her. Maybe you could ask her about shawls, give her the idea? And then tell me if it seems like the type of thing she wants.
Mom: You can knit me a shawl.
This is where I choked on my tomato salad.
Me: What do you mean?
Mom: Well, if it was light… Forget it, it's such a huge project!
Me: I know, but remember how I started the whole conversation – the most important thing is that I'm already interested in the technique – I am only looking for a reason to knit one. So if my only grandma asked for one, even though it's a huge project, you know I would do it.
Mom: Yeah…
Me: And if my only mom asked for one, same story.
Mom: Yeah… I could wear it to the cafeteria at work – it's always so cold.
Me: So, you know, hypothetically speaking, how complicated would you want your shawl to be? There are ones with leaf and flower designs, and simple ones with geometric designs, and even simpler ones with hardly any design at all.
Mom: I guess one with leaves would be nice.
Me: What color?
Mom: Well, my coats are either blue or purple…
Me: Maybe light blue? Or something neutral like beige or cream? Or gray?
Mom: Neutral is the thing, it would match many outfits. Yeah, gray would be nice. Like a bluish gray. You know how many metals, like steel and pewter, have that blue undertone? I would like a shawl that color… the color of steel.
Me: Okay, so leaves, and bluish gray. I already know a few shawl patterns that have leaves – I'll e-mail the pictures to dad, and he'll show you on the computer. Just like I did for his sharfik.
Mom: No, don't send them to him, just send me the shawl when you're done.
Me: You mean you want it to be a surprise?
Mom: Yes, I want it to be a surprise.
Me: So…
Mom: (interrupts) A surprise. Just send it to me when you're done. Are you clear on the color?
---
Well. What can I say? I come from a long line of very precise individuals. Even surprises are specified to minute details – triangular, with leaves, bluish gray yarn, not too warm.
She is my mom, though, one and only. Considering that in many respects I'm just like her, she will get exactly what she wants.
The beauty of blogging "in real time" is that readers have honest-to-goodness input into the knitting process of the blogger. I can't tell you how many times I thought of one thing or another, blogged about it, and based on readers' feedback changed my mind before even getting a chance to work on the project again. It's wonderful.
However, as you can see, that conversation took place on the 15th, and since then I've had the time to chat with some knowledgeable lace knitters and make up my mind about various aspects of this project.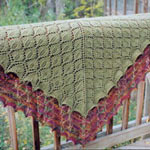 Pattern: I know it's been knit absolutely to death, but I'm going with Fiber Trends Leaf Lace Shawl. From what I've read, this is a nice pattern for a beginner lace knitter like myself, and even more importantly, it features the design elements my mom wants – triangular with leaf motif.
Other patterns I considered: Rowan Birch, All Tangled Up Kiri, Fiber Trends Flower Basket Lace Shawl, Lotus Blossom Lace Shawl from Shawls and Scarves: The Best of Knitter's Magazine
, Charlotte's Web, Florence Triangle Scarf from Fiddlesticks, Daisy Meadow Scarf from Fiddlesticks, Triangles within Triangles Shawl from Heart Strings, Hydrangea Shawl from Jade Sapphire, The Woods are Lovely, Dark and Deep from MagKnits, and a few others :).

Yarn: I'm definitely aiming for laceweight yarn. It doesn't have to be as thin as thread, but I hope to be able to knit with something thinner than fingering weight. It's a challenge I welcome, especially considering I won't have to do much knitting! First, the shawl is already a triangle, and second, I think I'll be aiming for a generously sized scarf rather than something bigger – the tip of the shawl should not reach lower than mom's waist. That's a comfortable and familiar size, similar to the other "shawls" she and my grandma have. And if she decides that she wants something bigger, I'll just knit her another :).
Shopping for laceweight yarn is a very tricky process, especially if it has to be the precise shade of bluish gray my mom wants! My impression is that unless you want to play the "hit or miss" game, you have to order online – LYSs just aren't well or reliably stocked. Of course shopping online is its own "hit or miss" game, sigh…

This colorway (Everywoman) from Schaefer Yarn really caught my attention since it seems to have the right combo of gray and blue. I could order their laceweight (Anne) in this colorway, but it has mohair in it – yuck, yuck, yuck! Plus I think it's just a little too dark and too blue. For those reasons I'm currently looking into having some non-mohair laceweight custom-dyed into approximately this shade :). And if that avenue isn't fruitful, perhaps I can bear the mohair… perhaps.
Other yarns I considered: JaggerSpun Zephyr, Lorna's Laces Helen's Lace, Jade Sapphire Lacey Lamb, one of Skaska Designs yarns, a hint from June (I thought it would be pretty cool to call and speak to Galina in Russian!), one of Treenway yarns (another June hint), and a few others.

My eyes and brain are so tired from surfing the web for all this crap… The planning for this project is definitely more challenging than for dad's sharfik.
0
likes