You know, sometimes stupidity happens, and you don't even want to blog about it.
Example 1: deciding that the easiest way to take apart my Niddy Noddy was to hold one wing between my knees, and pull on the other. Evidence of stupidity: Niddy Noddy-shaped welt on my chin. Ow! Example 2: deciding that I desperately need to start knitting a sweater right now, and going forward with this decision… without much any thought. Evidence of stupidity: several balls of frogged yarn.
So, let's take a step back, and while we will not discuss further the odd bruise on my chin (ow!), we will take a moment and talk about sweaters.
I've been on an odd streak of sorts. Look over at the FO gallery on the sidebar, specifically at everything after the orange Filati sweater: Candy footlets, dog bed for Annie's book, cream-colored socks for grandma, Sharfik for my dad, and Grumpecue. In the near future, the secret sewing project, another pair of socks for grandma, and mom's Leaf Lace Shawl will join the FO ranks.
I have a problem – I haven't knit a sweater in forever! I've been stuck in some kind of accessory rut, and it's time to, well, change that.
As soon as this realization firmly set in, I cast on with some soy silk yarn from the stash. No, there wasn't much thinking or planning. I may or may not have measured the circumference of my neck, and I may or may not have written it down in my notepad as 31″ (it's actually 13″). Perhaps there was a gauge swatch, maybe not. The whole experience was sort of embarrassing and, like I said, stupidity is sometimes not worthwhile reporting – don't want to give others any "brilliant ideas."
But something about the experience was very satisfying, and I feel ready to actually sit down, think, sketch, measure, and knit with some sort of plan in mind.
And what I have in mind is this Kimono-inspired sweater: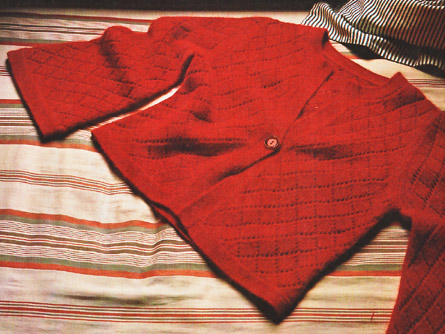 (click here for a mannequin shot)
I don't have to tell you – it's from that store, and I think it's gorgeous. Maybe it's the release of Memoirs of a Geisha as a movie (the book is one of my all-time favorites), or maybe it's my constant fascination with Asian cultures, but this jumped out at me as soon as I saw it. The sleeves are my favorite part, no question about it :).
But this sweater can use some "improvements," so I won't be buying it from the store. For starters angora content is not acceptable to this allergic girl! Also, I'm not crazy about cardigans in general, and specifically cardigans held together in the one place where buttons don't like to meet for me :).
But imagine that same sweater, minus the angora, and as a pullover with what I think is called a Mandarin collar. I'm diggin' it!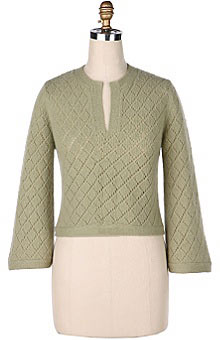 Now, to create (recreate?) the pattern.
The great thing about the Anthropologie website is that you can zoom in pretty close on the texture of this sweater. Check it out!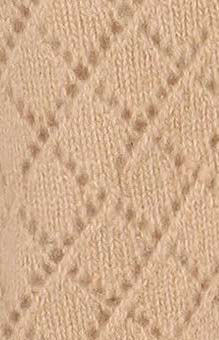 My juvenile lace skills jumped into action, and I came up with the following chart for the pattern. I would greatly appreciate any lace-knitting gurus (June?) checking it for accuracy: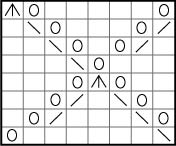 ETA: chart shows right-side rows only. All wrong side rows are purl each stitch. I determined this by realizing that each diamond has twice as many Vs in the vertical direction than in the horizontal direction. Thanks, Emily for reminding me to include that info.
Next I have to pick a yarn and do some swatching. I have three candidates in my stash; all are 100% superwash merino wool, approximately the same gauge: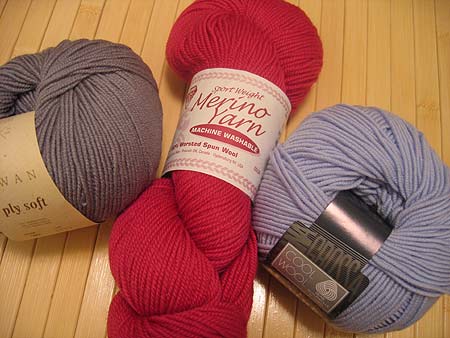 From left to right: Rowan 4 ply soft in Rain cloud, Louet Gems Opal in Crabapple Blossom, and Lana Grossa Cool Wool 2000 in the creatively-named 430.
Which will it be? I would say, "you decide!" but that would be disingenuous. How about, you vote, I listen, but when all is said and done, I decide?
The poll has now been closed! Thanks for voting :). Here are the results: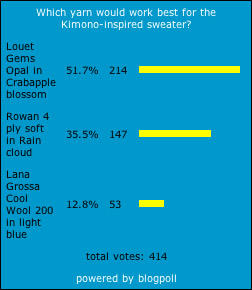 Ahhh! Blog background color back to normal