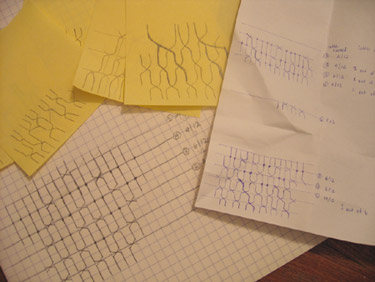 Don't even ask.
DON'T EVEN ASK.
DON'T. EVEN. ASK.
Eh, shit.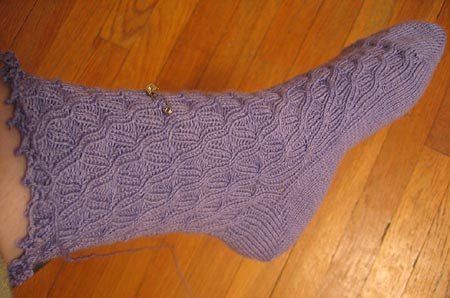 Well, I completed the first sock of the latest grandma sock pair and it SUCKED ASS.
Despite having switched needles from US 0 to US 1 for the leg portion of the sock, it still came out too tight. The cabling rows were like little tourniquets, cutting off my circulation entirely, which is really bad news for grandma whose legs are bigger to start with, and swollen most of the time.
You see that safety pin? That's the last cabling row that I thought was "acceptable" in terms of circumference. Everything else got frogged so quickly that I had to stop myself to take that photo (look – the needles are already out!).
I brainstormed a few ideas with June's help; they were all along the lines of increasing the total number of stitches. I tried several different things, including making the cables wider and even adding more cables (uhm, ugly, anyone?) but the results just weren't doing it for me. I must have frogged… six, seven times.
Wait a minute! Seventy-two stitches on US 1s should produce a perfectly reasonable sock circumference if there are no constricting cables! And that was my light bulb moment, which occurred as June and I exchanged e-mails about shawls (Shawls? What shawls? Heh).
I decided that I would gradually decrease the number of cable crosses, until the sock just becomes k2, p1 rib. I planned out the first row – it would have only 10 out of 12 possible crosses – and when I knit it, I totally botched it up. Of course, there's no other way! And I didn't catch it until I was ready to do the next cable row. Man! All the frustration and the worn yarn messed with my head.
So I'm back at the beginning…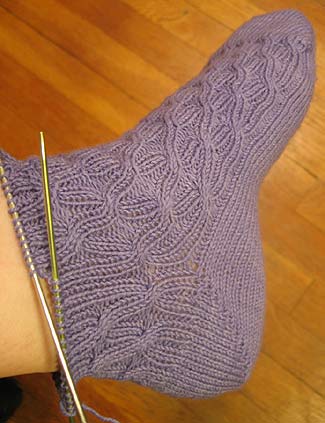 I think I need to take it nice and slow because if I have to frog again, it will be the entire sock!
---
Little baby grumperina.com has been growing beyond any of my expectations, and I'm as proud as a website mama can be :). I ran short on bandwidth last month, and I'm on my way to a repeat performance this month. As a result, I have purchased another domain which provides me with 350 times as much bandwidth. What does this mean for you? Absolutely nothing! My blog remains at the same address, all links and URLs should work, and I will not be republishing any old entries. If you spot something that isn't quite right, you let me know, okay? The only difference you'll see is bigger, less-pixilated pictures, and perhaps even more of them – oh yeah! Those of you with dial-up connections – I'm keeping you in mind, don't worry – I'm not about to go nuts :). You will continue to not see pictures taken in natural light, though, since no fancy shmancy website can ever supply me with that :).
0
likes