Knitting a shawl, and more generally, knitting lace, has always interested me. I must admit that I've tried lace before but without great success. In fact (and this speaks of my challenge-hungry nature), only two months after I learned to knit I equipped myself with very thin two-ply black silk/cashmere blend yarn and attempted to knit this: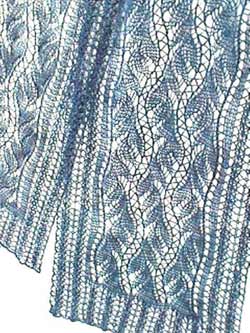 Hello?!? Anyone insane here? Me! Me!
I'm not the type of knitter who has a lot of long-term works-in-progress, but I do have one, and it happens to be lace: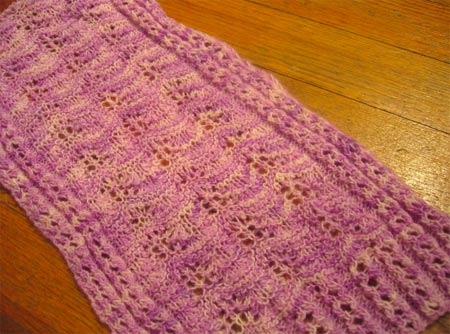 I've been working an inch or two a month on this project for about a year now. With no deadline and no recipient, however, my level of motivation is always a bit low.
So, what's the hold up? Why do I say that lace hasn't been a success for me? Why am I not cranking out shawls left and right?
I know all the tricks in the book, and I can follow them like a pro. I know how to knit and purl and decrease and increase, and I know how to use (but not abuse) stitch markers, and I know how to read, follow and write charts, and I know how to run lifelines and count stitches – you've seen me do all those things right here, just not in the context of lace.
My hold-up seems to be the actual physical manipulation of very thin yarn with significantly larger (compared to the yarn) needles. I just find that whole thing very frustrating and my hands don't like doing it.
Maybe I haven't tried the right needles? Or maybe the lace yarn I previously tried was just too thin for a first-time lace knitter? (not to mention black)
And so, I've been itching to give it another try, and Mom Dearest has finally provided me with a reason to get into the action – and I'll tell you all about that next time :).
0
likes