I was just thinking the other day that although memes are fun, I haven't seen any that are specific to knitting.
Lo and behold, Carolyn creates a knitting meme! Oh, I'm SO psyched! Not only do I have strong opinions about the topics the meme addresses, I can plaster my answers right here!
Carolyn, thanks for creating this meme, I am gladly answering it!
What is your all time favorite yarn to knit with?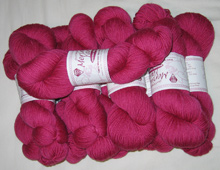 Oh, there's no hesitation about this one: Louet Gems Merino. I've only used sportweight (Opal) so far, but it comes in all kinds of thicknesses, as well as colors. What do I love about Louet? Let's just say that there's nothing I don't love about it. I am not much of a yarn hoarder, but at the moment I do have a sweet little stashette of Louet ;).

Your favorite needles?
This one is harder to answer because I'm a needle whore. You see, some people are yarn whores, and some people are project whores, but nothing brings me more joy than having one of each kind of needle. In every style/brand, size (smaller than 8), and color.
Here are some of my favorites:
As an alternative to the blunt-tipped Addis, I use INOX/Prym Express, and if I want something even more pointy, I reach for my trusty Boye
or Susan Bates Silvalume
. I'm also a big fan of Bryspun needles, all the different varieties – straights, dpns, and circs. When I want to use metal dpns, I like INOX/Prym aluminum, although the way the sizes are marked on the packages is weird.
The worst thing you've ever knit?
This little baby sweater. Simply, I didn't know any finishing techniques back then and put a whopping two stitches into the seams. I would do a much better job with that pattern now ;).

Your most favorite knit pattern? (maybe you don't like wearing it…but it was the most fun to knit)
Carolyn, I'm with you – it has to be Forbes Forest from Scarf Style that I knit for Meg. What a fabulous pattern!

Most valuable knitting technique?
Willingness to try anything – the more challenging, the better.
Best knit book or magazine?
Without a doubt, Montse Stanley's The Knitter's Handbook
. Talk about comprehensive! If you're passing up this book only because of its affiliation with Reader's Digest, well… good for you.
Your favorite knit-a-long?
I enjoyed Stitch Ya Neck Out because almost everyone seemed to be a great knitter and photographer. It was a joy to read everyone's updates!
Your favorite knitblogs?
Purly Whites and Black Olive are easy answers because I know the girls behind the blogs and their writing style just speaks to me. The things common to all the other blogs I love are nice projects, great photos, posts and projects which don't drag, and good writing. There are SO many blogs which fit this description, but let me list two which always keep me coming back: cosmicpluto knits! (fab projects despite a busy school season), and Misocrafty (her sewing turns me green with envy!).
Your favorite knitwear designer?
I don't think I really have one. The thing is that I get overcritical about the patterns themselves, specifically the sizing, and so I eventually stop thinking of them as a design, a look, a sentiment, an idea, and start thinking of them as math problems. And that's asking for trouble when I'm thinking of a favorite knitwear designer, since I can't even remember the designer's style.
The knit item you wear the most? (how about a picture of it!)
I don't wear my handknits that much because I find them very hot. However, nowadays I can be spotted wearing the Lace Leaf Scarf Polly knit for me almost every day ;).

Tag time! I know Miss Paula, Laura, Joelene, and another Laura will all have insightful things to say! Can't wait to read all about it!