Do you know what's the most stupid-looking thing in the world? Me. Okay, me in a certain situation – trying to knit in the English (right-hand hold, throw the yarn) method. I might as well be a fish trying to peel a banana. Or be deep-sea fishing with a banana. The lure of stranded knitting is out there, though: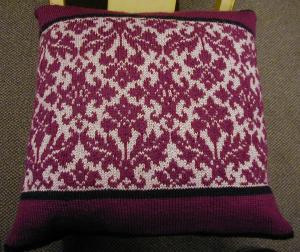 Pass a tissue, I'm drooling!
Of course I have investigated, purchased, and tried Strickfingerhuts (aka, knitting thimbles), but, eh, they are too darn big for my fingers. Next think you know, it's me, four Band-Aids, funny-looking coil on my finger, and needles being tossed at the wall. So, learning to knit two-handed, in the traditional way Elizabeth Zimmermann does in her videos, is what I'm opting for.
Along those lines, today I took a color-work class at the Knitting Room along with my friend Rosann. Although I was pretty clear on how to strand "in theory," it was nice to have scheduled stranded-knitting time, so that I can practice my English knitting. From the class itself I learned a lot of little tricks and gathered many observations about color-work knitting. Here's a picture from the class:
The pink and white swatch is mine! The heart is worked in intarsia (which I already knew how to do), and the rest of it is stranded. You can see I totally screwed up took some liberties with the "garter stitch" border.
How do I feel about stranding? Comfortable and curious enough to start a small project. I have some lovely worsted weight merino wool in a wine red and rose pink that's itching to be a hat, I think. Any hints about where I can find a pattern for such a thing?
From the class Rosann and I proceeded to visit the sale to end all sales at Wild & Woolly Studio in Lexington. There was a ton of yarn on sale, and I actually bought some, without a specific project in mind!
This is 10 balls of Lana Grossa Cool Wool 2000, 100% wool. I've definitely noticed this yarn before: versatile gauge (24 sts/4 inches) and it feels and looks remarkably like Rowan 4-ply Soft. Notice the lack of pinkness and redness. I'm not sure how that blue is looking on your monitor, but it's not a "baby" blue, it's very much a "Rowan" blue. Ten balls translates into 1750 yds, enough for a small sweater like the Vintage Pink Cardigan (i.e., 3/4-length sleeves, doesn't go past the hips, no fancy collar). I also got a pair of Bryspun circular needles – wow, the cord is so weird! All flexible and wobbly! I'll have to try them out. With needles, I like to have one of each kind, because you never know which kind will boss the yarn around the best. I'm such a needle ho (other than Addis, whose blunt tips I detest).
Tomorrow, an update on grandma's blue socks.
0
likes