People, people. Wow. I never imagined my VPC would receive so many compliments! Thank you, everyone, I really appreciate all this positive energy. It motivates me to think, to knit, to create. I send you all huge air-smooches – mwah!
A few comments: Thank you so much for complimenting my sweater's fit. Then again, why sholdn't it fit? I am in charge of my own knitting. You are in charge of your own knitting. Have a slender figure, large hips, long arms, narrow shoulders? Adjust your pattern to accommodate your unique body. This isn't a trivial task, I know, and my 13 pages of notes while making the VPC prove it, but it's SO worth the trouble.
In my case, I knew the way the pattern was written would never work. I have curves, and the pattern didn't include any shaping. It was a matter of measuring myself (done best behind closed doors), and measuring sweaters I already own. Then there was some screaming, running around like a crazy person, stomping feet on the ground (but I don't wanna!), wildly punching numbers into the calculator, measuring gauge every few inches… did I mention it really helps to have OCD and insomnia and a limit-less supply of diet Coke? If you're thinking of adjusting your pattern(s), there's a great article in the most recent Knitty to get you started. The best advice in that article is to examine your wardrobe and knit what you'll wear. So I already have a good 12 pink sweaters (wearing one right now), even more reason to not hesitate in making another one!
There was some talk of "the sisters," including "your endowments look mighty fetching in that there sweater". Thanks, Julia! I see them as a welcome challenge. I will knit all my sweaters to look good on my body – bring it on! There was also talk of grumpiness. I know I have a smile in that picture, and in various other ones if you glance at my archives. This is no indication of lack of grumpiness. One can be happy and grumpy at the same time. I'm happy about my sweater, I'm grumpy about a million other things. Not mutually-exclusive sentiments :). Furthermore, a few of you know me in real life, and a few of you know me in real life really well, and can attest to the spontaneous outbursts of grumpiness, especially considering Manos, handpaintedyarn.com, superwash, Koigu, Continental, Combined, and English knitting, the shit hitting the fan at work, and the lack of date-able men in Boston. Please, let's not go there today, the grump will come out.
On to bigger and better things, because they're here, and need to be discussed.
Remember this bad boy?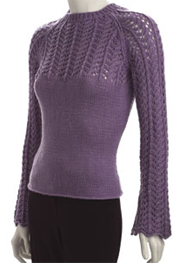 I've cast on!
I'm using KnitPicks' Merino Style in Hollyberry and I'm modifying everything.
I haven't forgotten about the Fibo, either. At my Sunday S 'n B the folks evaluated the two possible yarn and unanimously agreed that the teal was more sophisticated. I'm taking June's warning very seriously and swatching first for sure (she had said she wasn't pleased with the yarn when she used it). In the meantime, I've found a retailer online for Matchmaker 4 ply, the rose-colored yarn, and her prices are very reasonable. I might buy a sweater's worth because… I want to. If the teal Jawoll falls through, it will be for the Fibo. If the teal Jawoll is good, it will be for another sweater.
P.S. Betsy, the Kyoto was an uphill battle from the onset. I am so proud that you've finished it, and I think it looks great, especially the ribbon embroidery. There's no reason to diminish your accomplishment.
P.P.S. Kristina, you were my biggest supporter throughout the whole VPC process. If it weren't for you, I would have knit the AV sweater first! Thank you for your compliments!
P.P.P.S. I forgot to include some other vital measurements in my previous post, so I'm going to re-edit it. Sorry if it shows up as a new entry on your blog aggregator.
0
likes