My knitting has been all over the place. This is very unusual for me: I'm typically a one-project-at-a-time type of gal. And this even extends to thinking about projects. Here are some of the things going on:
I am slowly, but surely, working on the VPC. I'm being supremely obsessive compulsive about it. I check my gauge every 3 inches. I count my stitches every 5 rows. I measure and re-measure. I double-check everything and don't trust my math skills. I only work on it at home, with the TV's volume lowered. If I have to rip this rendition, my brain will spontaneously combust.
I have started Pretty Comfy Socks using elann's Sock It to Me Collection Esprit. Per my own rules, this is my "going out" project, and I do not touch it at all when I'm at home. As a result, I have completed a whopping five rows.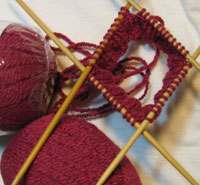 I got some yarn for the Russian hooded pullover. This is a bit of a story… A while back I noticed that elann was having some very interesting yarn on sale called ONline Linie 76 – Cup in a lovely burgundy. I thought about it, and thought about it, for like a month, and then I read on Alison's blog that the yarn was soft, and I also saw how interesting the yarn looked knit up. Well… racing back to elann I went and lucky me, 28 skeins of the burgundy remained, and I snatched up 14 of 'em. I got the yarn a few a days ago, and it's everything I thought it would be: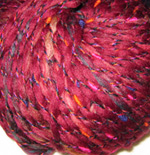 For those of you keeping track, I'm working on the VPC, I have already bought KnitPicks Merino Style in hollyberry for the Adrienne Vittadini sweater, now I have bought ONline Linie 76 for the Russian hooded pullover, I bought some raspberry Louet with no project in mind (but there's enough for almost two sweaters, I think)… and that's not the end of it!
I bought some new Noro Daria, which is a cord-like yarn great for purses and other items which need structure, and also some Katia Sevilla, which looks and feels like the ribbon used to wrap gifts.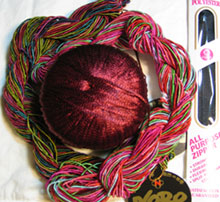 I will use these two yarns to make a little pouch… it will be in seed stitch or linen stitch, it will have a zipper (which I also already bought), and it will be lined with some cool fabric. The pattern will be all mine and I have some very clever ideas already :). I do not exclude a submission possibility, so most likely this is the first and last time you'll hear about this… for a long while. This is a project I actually need to start asap, since the recipient's birthday is April 8th. Yikes!
There has been book purchasing. Most recently, I got my own copy of Shadow Knitting
by Vivian Hoxbro and At Knit's End
by none other than Yarn Harlot. These two are on their way. Also, a few weeks ago I bought Elizabeth Zimmermann's The Opinionated Knitter
, which I'm enjoying immensely.
There has been pattern purchasing. I surfed onto a photo of this gorgeous pillow on the knitsmiths website. And I knew I had to make it.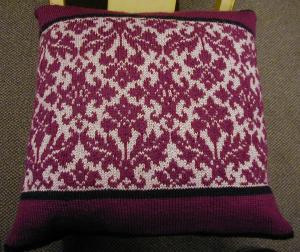 At the LYS I found the pattern for this Dale pillow, and I couldn't resist buying another one, Dalegarn Interiorkolleksjon NR 119. I am in the process of learning how to strand while knitting with two colors.
And now I need to get back to knitting my VPC, thank you very much. Later, alligator!
P.S. Notice any difference in my photography? I got an Ott-Lite
!
0
likes