Yes, it's ready. And I'm ready for you to try it! My own design, months in the making, rejected by Knitty, it's the free pattern for an iPod cozy! Or iPod cosy, depending on where you live.
Click on the picture to get the pattern in .pdf format (Click here if you need Adobe Reader).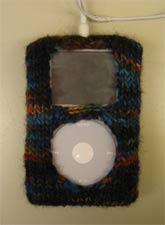 Here's a back shot which shows off the buttons: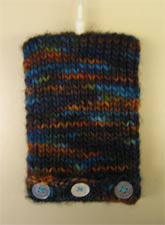 Now, go! Make one!
A special thanks to Subway Knitter who entertained a long discussion with me about copyrights. Neither one of us is a lawyer, and that's really the best way to decipher copyright laws. I'm only half-kidding :).
Also, a small note: this pattern is for a full-sized iPod; more specifically, the newer full-sized versions which don't have the four buttons under the screen. For me, the hardest part about creating this pattern was the lack of a model. That's right, you would have never guessed, but I do not have an iPod!. Of any kind! And I don't want one, will never have one! In creating this pattern, I would knit something, then gingerly place the work-in-progress against a coworker's iPod (and it's her iPod in the picture, too, photographed on top of my lab bench) to see what needed changing. It was not a quick process, bringing the knitting to work, taking notes, going home, changing a few stitches, trying it on again the next day… For this reason, I do not think I will create a cozy for a mini. However, I encourage you to create it! It will take a lot of trial and error, since the round opening has be "just so" to stretch horizontally and vertically and leave the Click Wheel exposed. However, we're talking just a few yards of Manos here, not a big loss. Good luck!
0
likes