My knitting group meets at a cozy coffee shop, and has been doing so for almost a year. I started attending this group in October, and even though it's terribly out of the way for me, I haven't been able to stop :). The people are fantastic, and as a group we have decided to make a wall hanging for the coffee shop. Each of us has pledged to make one or two 8″ squares, and we plan to stitch them together to make the finished project. The wall hanging was originally conceived as a Christmas/holiday gift, but what knitter has the time to knit a little extra something during the holidays? So now our squares are due on March 15th (the Ides of March), and with the seaming, the wall hanging will be probably done by Cinco de Mayo.
I pledged to make one square, and it was automatically assumed that I'd use some kind of small needles, or some kind of thin yarn, or some kind of lacy pattern with weird cables, or a combination of the above. Ha!
Yes, that's what I did 🙂 (minus the cables). I consulted my Barbara Walker Treasuries for inspiration, and decided to combine two lacy patterns for my square. I used Louet Gems Merino sportweight and US 3 needles to make my square.
Lace comes alive after blocking; in this case, the size increased dramatically. After making a swatch and blocking it, I calculated how big (or small) I'd need to make my actual square: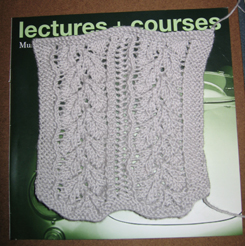 Here is the unblocked square. The piece of paper beneath is actually 8″ x 8″, while the square is a measly 6″ wide and 7″ high. This gives you an idea of how much the square will have to stretch.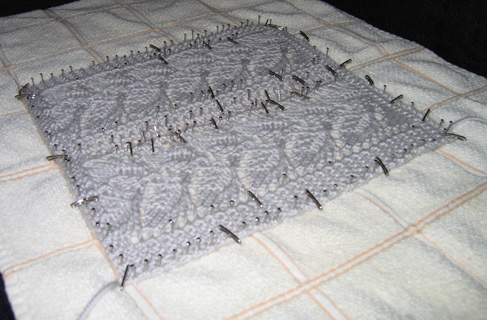 I used hundreds of pins to make sure the square blocked to a perfect 8″ x 8″ and that all the patterning showed off nicely. Betsy said the square reminded her of Hellraiser in this state. Personally, it reminded me of braces.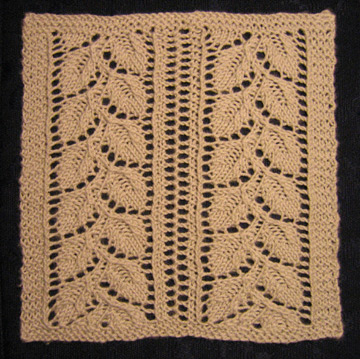 And here it is, the finished square! I'm very happy with how it turned out. Making this square taught me to always make a gauge swatch when doing lace, if the final size matters.
In other news:
What's this?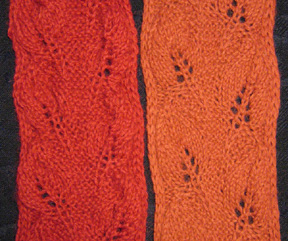 I'm at it again. In the right corner, in the rose corner, we have the current champion, Backyard Leaves 1! In the left corner, the raspberry corner, we have the challenger, Backyard Leaves 2!
Backyard Leaves 2 is precisely identical to the first one, except the yarn is a different color. The rose-colored one is all mine, but the raspberry one will be for my friend Egle. And since we've been talking about blocking, how about those scarves?!? Blocking made a huge difference here, I think, making the finished scarf flatter, and the leaves pattern more visible.
0
likes