May 12, 2013
New Hampshire Sheep & Wool Festival, 2013
The whole family went this year!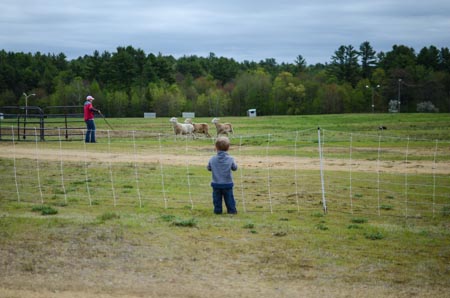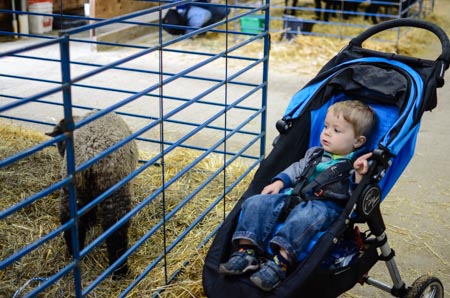 We had a great time, even though I bought zero yarn (I really stocked up at the Windsor Button closing sale, and feel like I need nothing) and Gregory was somewhat hesitant about the animals. The location - just a bit over an hour away from us - is perfect for a half day trip, and the grounds were really nice. Some great vendors, too!
On the knitting front, I have two successes and one failure to report.
First, I am nearly done with Budgie, the third. The knitting is done, and the ends are woven in.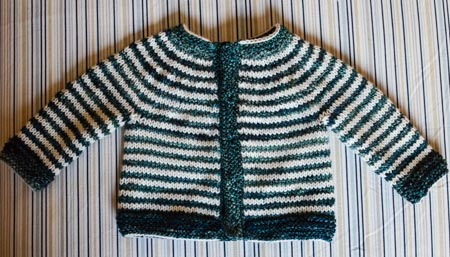 The buttons are picked out.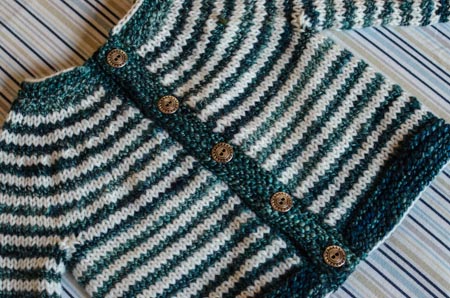 Now only to sew on the buttons and block.
Second, I started another baby sweater, Sunnyside cardigan by Tanis Lavallee. It's a lovely, simple pattern for a basic baby sweater.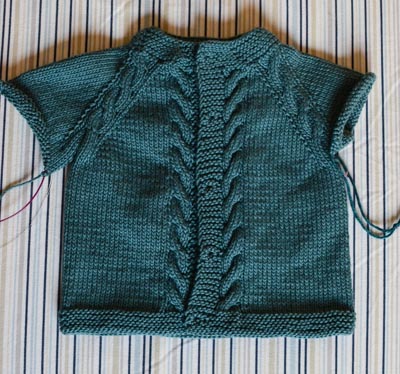 I am using Gedifra Florida, a discontinued yarn I got eons ago on elann.com. On the plus side, the yarn knits up into a lovely fabric on US 3 needles, and it's wool-free! On the minus side, it is SO splitty! I'm sticking with it, though, I like the color and the way it knits up. I'm going to be done with this sweater very soon.
The one failure I have to report is with respect to my grandma's socks. I picked a pattern - Anniversary Socks by Nancy Bush in Favorite Socks
, but the lack of symmetry in the lace motif was bugging me, plus the socks weren't coming out wide enough. I picked a yarn - a gray one from my stash. I picked it because it was already wound. My yarn selection process is so rigorous nowadays, haha! It's hand-dyed, but I'm not sure of any other details. In any case, the yarn is terribly splitty and kind of stringy. So I'm back to square one.
I've actually been thinking of reknitting this pattern, Traveler's Stockings, because I really enjoyed knitting it (and remember this 6.5 years later!), it worked from the first try, and I know my grandma gave away that sock pair to my great aunt. I'd even use some Lorna's Laces Shepherd Sock to guarantee success. With so many sock patterns out there, it feels like a cheat, but sometimes you want a sure thing, know what I mean?
April 28, 2013
I'm knitting another Budgie
But before I get there, let me share with you the Potholders I received in the 2013 Potholder Swap! (on Ravelry, on Flickr)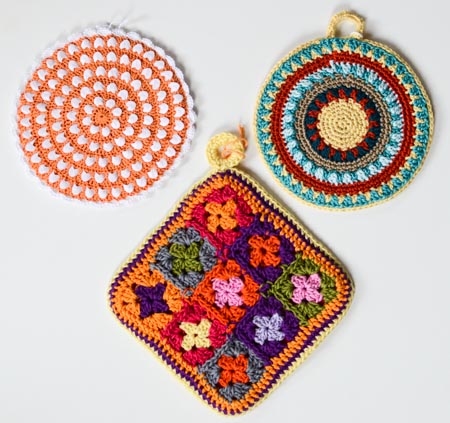 Gorgeous, right? The one with the ric-rac was crocheted by yarnbee Cheryl, and has got to be the fanciest potholder I've ever seen. I understand that Cheryl is writing up the pattern, which is awesome, because I've been trying to deconstruct how exactly she made this for days. The other round potholder was crocheted by the fabulous NJ Stacie - I always shy away from patterns which have so many different colors, and I'm so glad Stacie doesn't ;). And the square potholder is by none other than Maryse! I love her adaptation of the granny square, and, again, all the colors!!! Thank you so much, ladies!
My own potholders ended up with melseyknits Melinda, Maryse, and... I don't know who got the third ;).
I love this swap, and would participate again in a heartbeat!!!
- - - - - - - - - - - - - - - - - -
As for the title, it's baby season, as we all know, and the logic is simple:
Baby season => baby sweaters => small amount of yarn => handspun stash => combine with a solid to stretch the yardage = Budgie!!!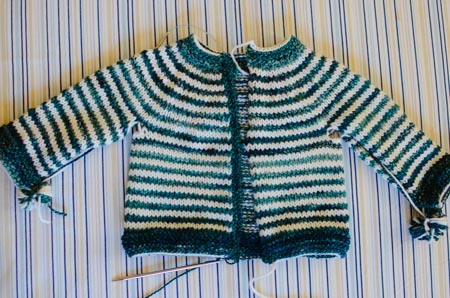 This time I'm combining some Blue Jellyfish handspun from Pigeonroof Studios (80/10/10 superwash merino/cashmere/nylon, 170 yards of DK/worsted weight, purchased 4/12/2010 - yay for using up stash!) with Berroco Vintage #5101 (mochi) (left over from knitting the Preppy Cardigan, more stash!).
As soon as I started knitting this sweater, the stripes came across very nautical to me, even though the Blue Jellyfish colorway is more of a teal than a blue. I even considered adding a shawl collar or one of those square-ish collars you find on sailor uniforms. However, eventually I decided to leave the neck opening as is, knit a button band instead of a zipper band, and add some nautical silver-tone buttons (not yet purchased). I think the sweater will come out very cute! Stay tuned for FO pics!
April 06, 2013
Let the baby season begin!
Before anyone gets too excited, not my baby :). But there does seem to be another wave of babies expected in 2013, and this knitter has her needles at the ready! First up, a gift for a friend who's expecting a girl this May.
Pattern: Inky Dinky Jacket and Hat by Anne Hanson. I first noted this gorgeous pattern on the lovely Eloise, and it was only a matter of time before the right recipient came along so I could knit it!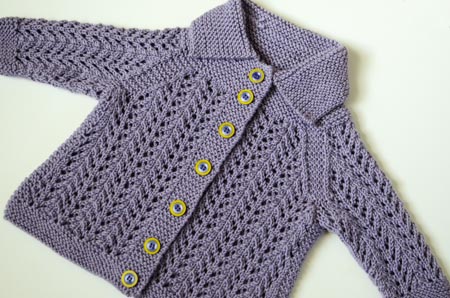 I knit the 6 month size of both jacket and hat, without too many modifications! Oh, yes, you might have noticed that it's a different stitch pattern - I had to change that. As beautiful as the original is, I just couldn't keep up with the massive chart. I subbed the significantly-easier stitch pattern from Elizabeth Zimmermann's Baby Sweater on Two Needles (February) from the Knitter's Almanac
. I think it worked out very well.
Yarn: Louet Gems Merino Sportweight in color 09, lavender, two 100-gram skeins almost to the last yard! I've had this yarn in my stash for almost as long as I've been knitting - I bought it off eBay years ago for a song, as they say. The color has been long discontinued. I could never think of the right project to knit with it, but this one was perfect. I paired this very classic color with interesting buttons!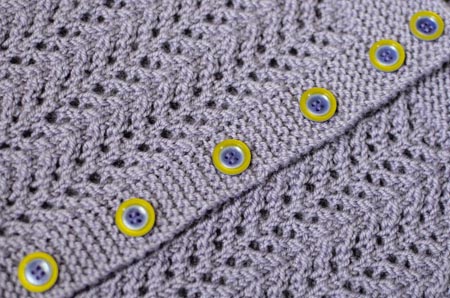 The buttons are from the now defunct Windsor Button. Where else could I have found such great buttons?!? Oh, the sadness :(.
Needles and finished dimensions: As recommended, US 3 and 4 circs and dpns. After blocking, the sweater is about 19.5" across the chest, 11" from hem to shoulder, and 5" from cuff to armpit. The hat is 14" in circumference and 6" deep. I know the hat pattern was written to be more of a beret than a hat, but I think my version is going to be more of a slouchy hat. Everything is super stretchy, but I think this set will fit a 3-6 month old: so, for this May baby to wear this fall/winter.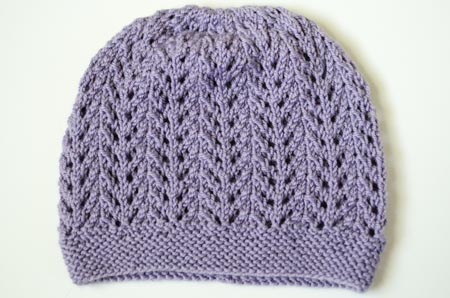 All in all, I really liked the styling of this sweater - the A-line silhouette, the lovely little collar, the garter stitch edgings. I did find the actual pattern a little wordy, but I don't think I'm allowed to complain about that, as I write wordy patterns myself ;). Just push through - Anne Hanson has you in good hands :).