November 28, 2013
Happy Thanksgiving!
My little buddy wishes you a very Happy Thanksgiving (or, Happy Thursday, depending on where you live) while wearing his new mittens!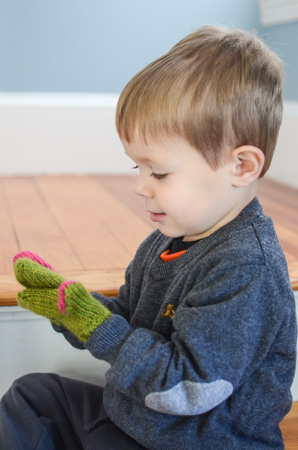 Pattern: Dulaan Easy-on Mittens by Julia Farwell-Clay. Very, very clever, and easy and quick to knit. I made these a little bit smaller than what's listed in the pattern by cutting some stitches and rows here and there.
Yarn and Needles: Berroco Vintage in 5175/fennel (left over from this project), and 5166/sakura (left over from this project). Just a few yards of each, really. I used US 6 needles.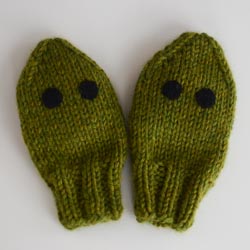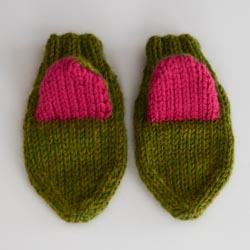 As you can see, I knit the insides of the thumbs with a bright pink yarn, and then sewed two eyes on the hand side - circles cut out of craft felt. We are calling them "dinosaur mittens" in this household, but you can also imagine them being lizard, snake, or crocodile. I saw this great adaptation on Ravelry (the duck variation also caught my interest).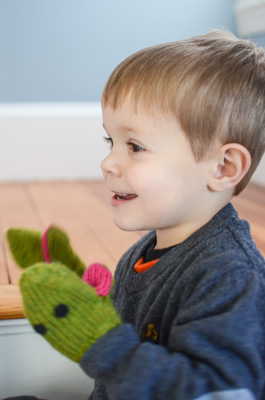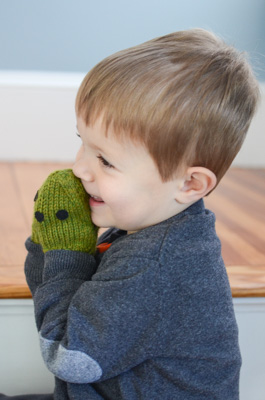 Gregory seems to really like them, and they are far easier to slip on than store bought fleece mittens.
November 08, 2013
Shawl-collared baby sweater
This is a belated gift for a new baby. He is now 14 months old. Eh, who's counting?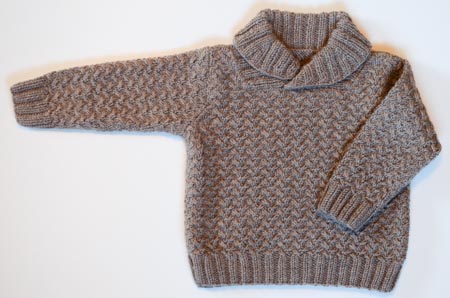 Pattern: Though the pattern is my own, it's styled after the Fisherman's Pullover by Lee Gant in 60 Quick Baby Knits
(my review of that book here), as well as this Janie and Jack cabled sweater.
Once upon a time, I had actually started that Fisherman's Pullover using this very yarn, but found that the fabric came out very bulky - too much cabling for such a little sweater. The silhouette appealed to me, however, so I decided to swap smaller cables that would add texture, but not as much bulk.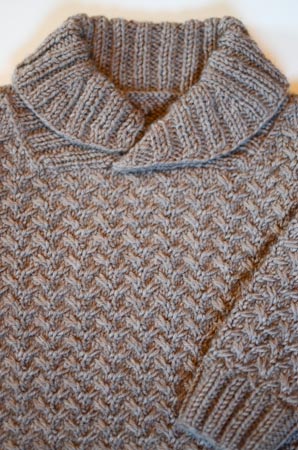 If the stitch pattern looks familiar, that's because it's the same one I used in the Shifting Sands scarf pattern.
Yarn: Cascade 220 Superwash, 100% superwash wool, in color #1926, doeskin heather. This sweater used up about 2.3 skeins (520 yards).
Needles: US 4 for the ribbing, US 6 for the body.
Finished dimensions: 23" chest circumference, 12" from shoulder to hem, and 8" sleeve length to underarm. I aimed to make this an 18-month size, and I think I got pretty close.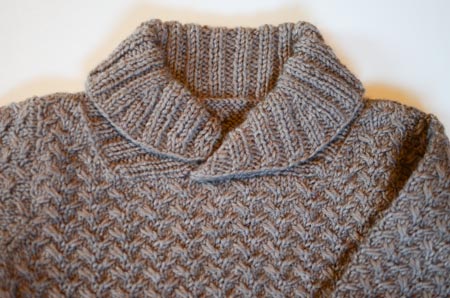 I found the collar of this sweater to be simply impossible. I am not sure where I went wrong: did I make the neck hole too deep or too wide, too shallow or too narrow? Did I pick up the wrong number of stitches, or knit the ribbing to the wrong length? No matter what I tried, it seemed to me that the collar was coming out too high and too closed up. I finally made the collar work, but not before adding short rows and increases to make it spread out and away from the neck, and seaming it at least a dozen times. Ugh! I think I don't want to see another shawl collar for a long while.
October 31, 2013
Happy Halloween!
Over the past month, I've been busy with a number of knitting and crochet projects, but a sewing project recently demanded all my attention.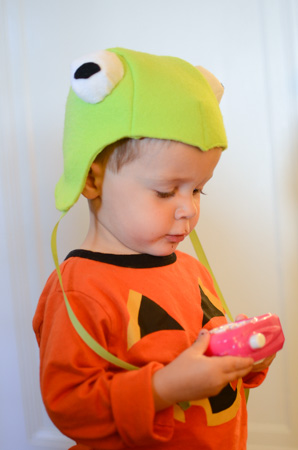 I didn't intent to sew anything for Halloween. I ordered this Kermit costume for Gregory
, and thought, that'd be that. However, while the bodysuit of the costume fit him (a bit snugly), the hat was impossibly small.
A new froggie hat was needed - crafty mommy to the rescue! I bought a remnant of lime green polar fleece at Joann's, and started with a free sewing pattern, the Sweet Pea Pilot Cap Pattern and Tutorial. I modified the pattern quite a bit, since it's written for jersey, and I used polar fleece. I also scaled the pattern to make an adult version of the hat.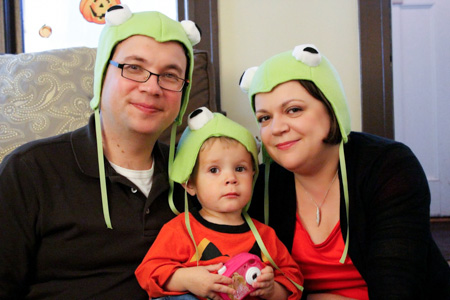 And so, though I didn't plan for it, we were a whole froggie family for Halloween! Gregory wore the entire outfit while trick or treating, and I wore the matching hat. It was loads of fun!