March 17, 2014
March roundup
Has it really been more than a month? Wow. My bad. I actually blame the Olympics. Between watching the Olympics, and then trying to catch up on all the things which took a backseat during the games, I feel like I lost an entire month of my life.
On the plus side, watching the Olympics allows some simultaneous knitting, so I do have quite a few things to show you. In fact, I was cleaning out my WIP basket yesterday, and decided to document what's currently living in there.
Presenting, in order from most complete to least complete, Kathy's knitting basket, March 17, 2014!
1. This is an entirely finished lace shawl. It's not blocked. It's been finished for more than a month. I've become one of those people. Don't judge.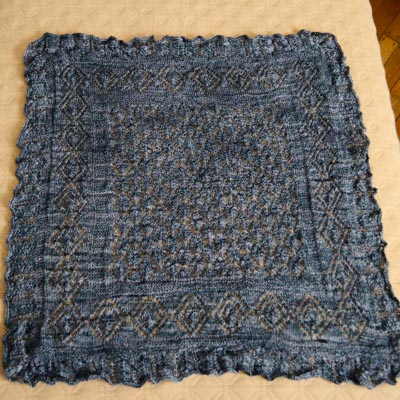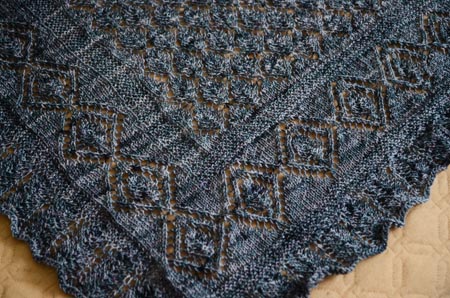 (Lehe Square Shawl from Knitted Lace of Estonia
by Nancy Bush, knit in Sundara Yarn Lace Silky Merino, Earth Studies #198.)
2. A nearly complete crocheted scarf. I just need to crochet maybe another 5", and then add an edging.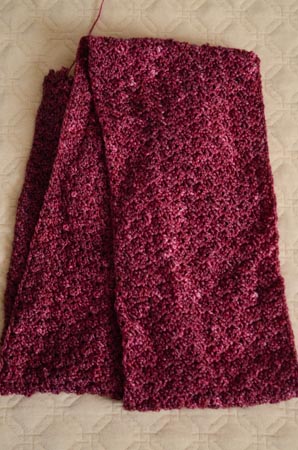 (Alpine Frost Scarf from The Best of Interweave Crochet
by Amy O'Neill Houck, knit in a locally-produced 50% merino/50% tencel blend.)
3. Something like 1.3 socks.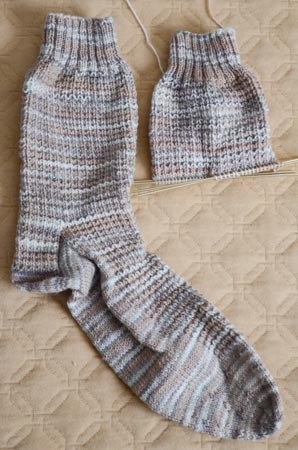 (Gentleman's Half Hose in Ringwood Pattern from Knitting Vintage Socks
by Nancy Bush, knit in Lorna's Laces Shepherd Sock, Aslan.)
4. A bit more than 1 sweater. Two friends are expecting baby girls in June, and I decided to make one of those adorable Baby Kina sweaters for each one. One sweater is done, but not blocked (don't judge), and the other is just getting started.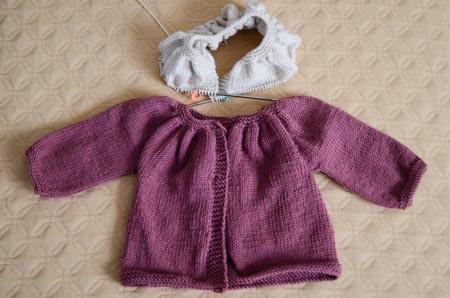 (Yarn is Debbie Bliss Baby Cashmerino, one of my old time faves; the rose is #036, and the off-white is #101.)
5. One crochet potholder in progress, for the 2014 potholder swap!!! I'm so excited that this swap is happening again this year.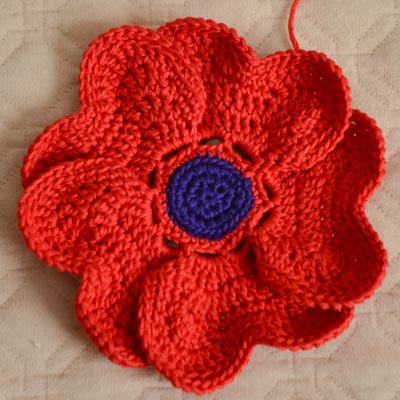 (Poppy from Crochet Flower Power Potholders by Cameron Sibley for Annie's Attic, 1996, in Tahki Cotton Classic.)
And how is your knitting basket doing? As poorly as mine? ;)
February 02, 2014
Cold Office Legwarmers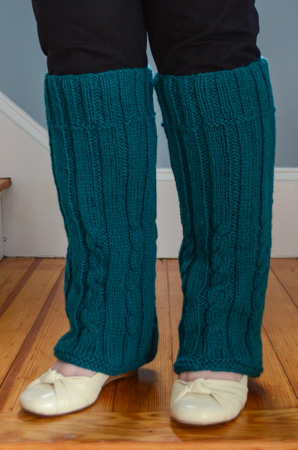 Pattern/back story: I knit these for a coworker, who has a very, very cold office. The idea is to wear these on top of pants while sitting at her desk, then take them off easily when going home or to a meeting. They are tall and very roomy, so even wide-leg pants would fit beneath without much wrinkling. At the same time, the ribbing keeps them up, the cables cinch them at the ankle, and the garter stitch at the bottom allows the legwarmers to surround the foot and shoe. Stitch motifs, at work!
Yarn: Cascade Eco+ in 8462, spruce. I used a little less than 1 skein. I loved knitting with this yarn; it's not often that I use a bulky weight yarn, and it's just so awesome how quickly it knits up! So soft, too! And despite such a deeply saturated color, there was just a hint of bleeding when I blocked the fabric. I was expecting much worse.
Needles: US 10 circs. The legwarmers are about 18" tall, and 14" around, if measured unstretched. If stretched, they are much wider!
A great little project to start the year! I will have another FO to show you soon, too, and this one is polar opposite - super delicate lace!
January 01, 2014
One last project to finish off 2013
And it's a familiar one!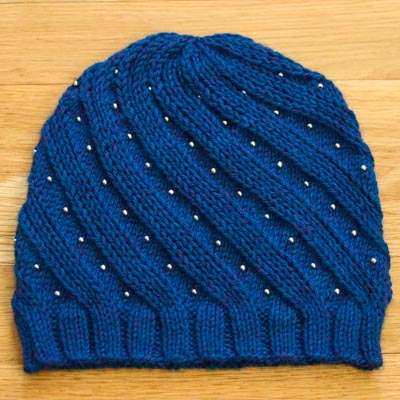 Pattern: Odessa, by yours truly. I don't typically knit the same pattern more than once, but I wanted to knit something of my own design for an upcoming charity auction. This pattern seemed to fit the bill.
Yarn: Berroco Vintage in Blue Moon (51191). Vintage is a little bit thicker than the Rowan Cashsoft DK originally called for in the pattern, but I didn't notice any significant difference in fit - the hat came out just the right size. This colorway is gorgeous - a deep blue with a soft red/purple halo, how is that even possible? I had a difficult time capturing it accurately.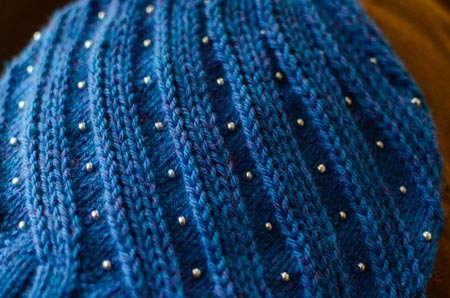 Needles and beads: US 4 and US 6 circs, as stated in the pattern. The beads are from Beadworks in Cambridge, purchased eons ago (first used, and rejected, here, actually). They are a matte silver, and pick up the blue around them nicely.
All in all, I knit 12 projects in 2013, plus sewed two cut chenille blankets and froggie hats for Halloween. Behind the scenes, there have been countless small projects for my house - hemming pants and too-long sleeves, sewing curtains for unusually-sized sidelight windows, et cetera.
But I'm certainly nowhere near the productivity of my single, child-free days (25 projects in 2006, that seems impossible now). What's more, I feel completely out of the knitting loop. A funny example: to knit the hat above, I had to go to Ravelry and download a copy of the pattern - I no longer know where my own copy lives (electronic or paper)! And I designed it!!! I used to pride myself on being "in the know," but now there are books, patterns, designers, yarns, needles, and approaches that I've never heard of. And such an abundance of them, too! (Clara Parkes is spot on with respect to pattern abundance in her review of 2013, if you haven't read it yet.) One contributing factor to feeling out of the loop is the loss of several local yarn stores this year, most notably Windsor Button, where in a 30-minute visit I could quickly touch new yarns, look at new books and pattern booklets, and reconnect with the knitting world at large. Coincidentally, it's where I bought the yarn to knit the above Odessa, where I saw the unique, un-photographable color of the yarn with my own two eyes, which convinced me to buy it.
Fortunately or unfortunately, I love knitting too much to just give it up (blogging, too). The pros continue to outweigh the cons. And so, I will continue to trudge along, knitting and blogging at my own pace. After all, there are new books, patterns, designers, yarns, needles, and approaches that I have yet to try!
Thank you for reading, and thank you for knitting. Here's to a happy and healthy 2014!