A picture of my little matryoshka, who's almost 8 months old, wearing a matryoshka print, holding a matryoshka!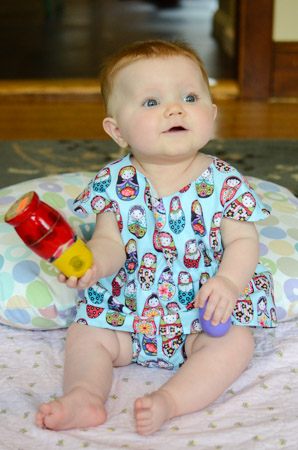 Patterns: Oliver + S roller skate tunic and seahorse bloomers, both in the 6-12 month size.
Fabric: both the matryoshka fabric and the lining/accent fabric (white with blue dots) are from my local Joann's, but neither seems to be on their website.
Here Sonya helpfully demonstrates the lining fabric: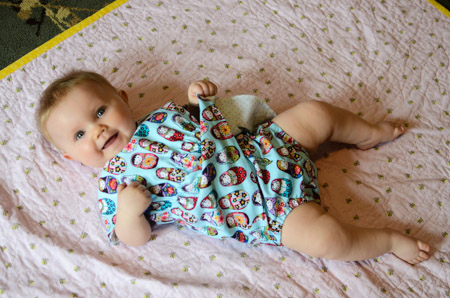 The whole outfit came together very quickly: two weekends, plus a little sewing time during the weekdays in-between. The Oliver + S patterns are wonderful and deserve their popularity; they are easy to purchase, print, and follow, and are very thorough. The fabric is perhaps not the very best match for them because it's a fairly large print, and the bloomers have a seam down the front, the tunic is gathered at the empire waist. But there are no set-in sleeves, no buttonholes, and no seams on the front of the tunic, all of which made the project manageable for me.
After sewing these, I have 3 specific comments/questions for my readers:
The pattern instructs to finish raw edges after the seams are sewn and pressed open. I was previously taught to finish any edges needing finishing before assembling the garment. Once I realized that Oliver + S makes this particular choice, I started reading ahead for edge-finishing instructions, and finished the particular edges before assembly.
Washable fabric markers. I've never had any luck with them, in particular getting them to wash out completely. So any time I see instructions to mark the right side of anything with a "washable" fabric marker, I ignore and transfer the marking in some other way (a stitch, a pin, a chalk line, a basting line… anything other than marker). In this pattern, though, this bit me in the ass and I had to redo a few seams because my marks were not as precise as a marker would have made. What do you do?
I once learned a way to sew a narrow hem, which I substituted here instead of the instructions in the tunic pattern. I don't know what it's called (I thought it was called a "rolled" hem, but Google thinks that's something else entirely). You basically sew a straight line parallel to the fabric's edge, presser-foot-width from the edge. Then you fold along the stitching line, and then fold again the same width. Pin in place. Edgestitch. Anyone else know or use this method? What is it called?
That's all I have to say! These are simple, lovely little patterns, and I can't wait for Sonya to wear her outfit this summer!