I've never shared a recipe on this blog, but I've been eating baked oatmeal every morning for months now, and continue to truly enjoy it, so I thought I'd tell you about it. I make an 8×8″ pan during the weekend, and it lasts the whole week for me. Every serving is chock-full of oats, nuts, and fruit, which is great for heart health and nursing moms. This oatmeal is also gluten free (just make sure the oats you buy are gluten free), dairy free, and soy free, so it's great for people staying away from those allergens.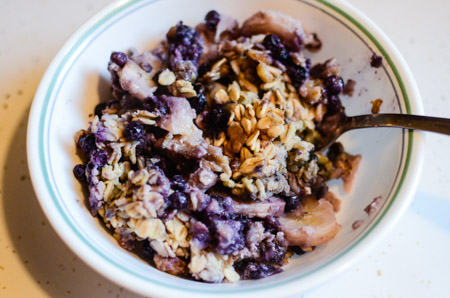 Modified from Baked Oatmeal on epicurious
Yield: Serves 6 generously
Ingredients:
2 cups/7 oz/200 g rolled oats
1/2 cup/2 oz/60 g walnut pieces, shelled or chopped
1/3 cup/2 oz/60 g maple syrup
1 teaspoon aluminum-free baking powder
Scant 1/2 teaspoon fine-grain sea salt
2 cups/475 ml "original" almond milk
1 large egg
2 teaspoons pure vanilla extract
2 large (or 3 small) ripe bananas, cut into 1/2-inch/1 cm pieces
1 1/2 cups/6.5 oz/185 g fresh or frozen blueberries
Preparation:
Preheat the oven to 375°F/190°C.
In a bowl, mix together the oats, half the walnuts, the baking powder, and salt.
In another bowl, whisk together the maple syrup, the almond milk, egg, and the vanilla.
Arrange the bananas in a single layer in the bottom of an 8×8″ baking dish. Sprinkle two-thirds of the berries over the top. Cover the fruit with the oat mixture. Slowly drizzle the milk mixture over the oats. Gently give the baking dish a couple thwacks on the countertop to make sure the milk moves through the oats. Scatter the remaining berries and remaining walnuts across the top.
Bake for 35 to 45 minutes, until the top is nicely golden and the oat mixture has set. Remove from the oven and let cool for a few minutes before eating. Can be refrigerated and portions reheated in the microwave.